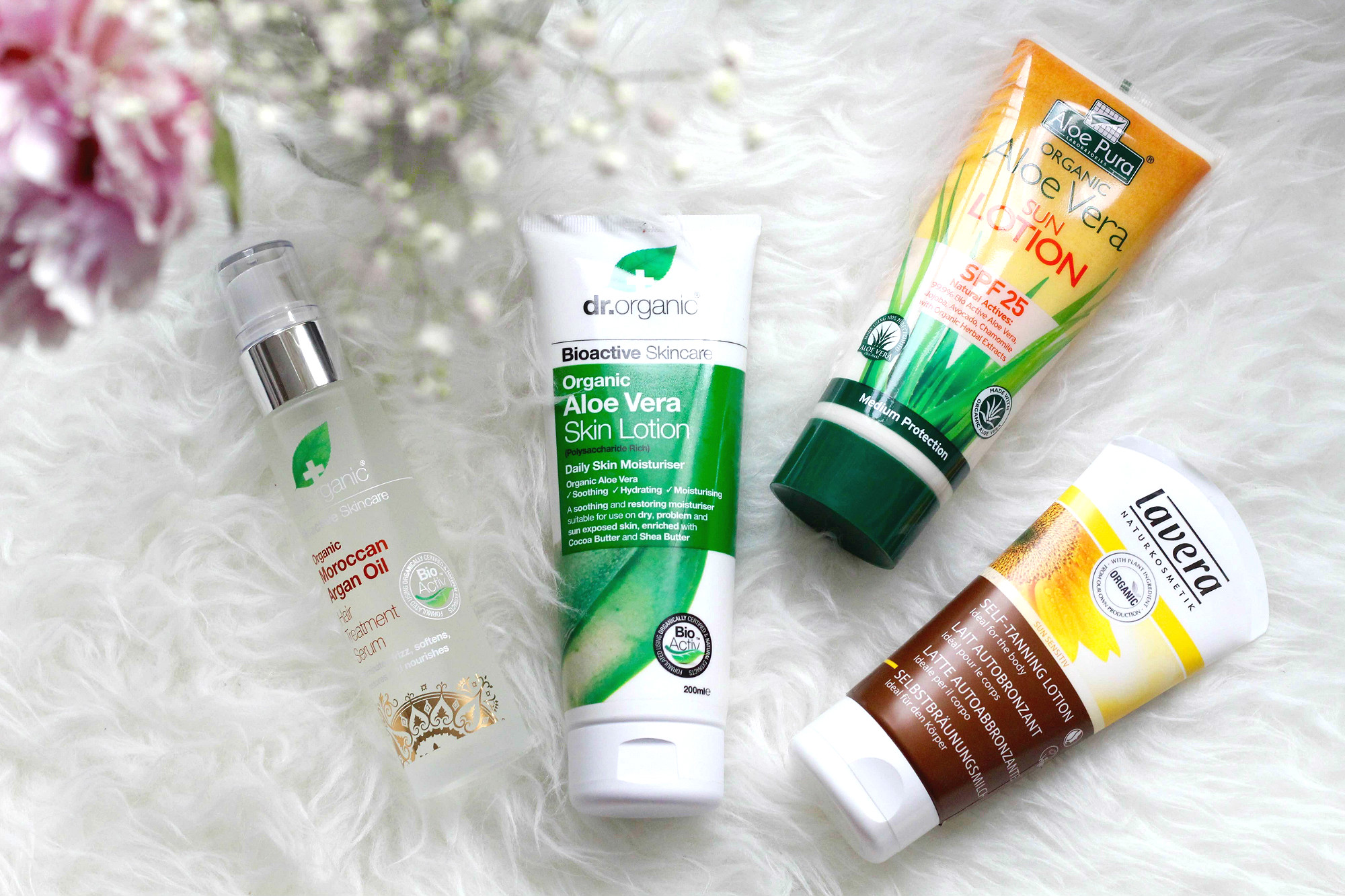 For a girl who has shelves full of beauty products, never before have I tried some organic beauty bits. In fact, I'd never really thought of popping into Holland Barrett for holiday beauty essentials, but since trying these out over the past few weeks, I'll definitely be going in for more than just quinoa and some vitamins.
It's no secret that the sun can cause damage to our hair and skin, so it's important to look after them while you're lying in 30 degrees heat engrossed in a book (or five). I've been using these products for the past few weeks, and if I was lucky enough to have another holiday to go on, these would be going straight into my beach bag.
We all know about the importance and benefits of eating organic produce, but I'd never thought about how important it is to use organic products on our skin and body aswell. Not going to lie, at first I was quite sceptical about how well organic beauty products would work, but I was gladly proven wrong.
Between highlights, extensions, curling and being frazzled in the sun, my hair was in some major need of TLC. The Dr. Organic Moroccan Argan Oil Hair Treatment Serum is packed full of nourishing ingredients like argan oil (it's in the name sure), geranium oil, rosewood oil and orange fruit extract. I put this through the ends of my hair after the shower and it keeps the ends from being dry and frizzy, and in the morning to smooth any fly-away hairs from during the night. Only a tiny bit is needed, like with most hair serums, and it doesn't leave my hair greasy. Sometimes if I'm wearing my hair in a plait I put a little extra in so my hair can soak up the oils and it leaves it feeling and looking super soft.
Don't get me started on dry skin. I think the heat (and lack of moisturiser) on holidays literally sucked away every bit of moisture I had in my skin. My legs were so dry that they were actually sore, and I'm pretty sure I shed a whole layer of skin (TMI? sorry). I've used pure aloe vera on sunburn before, but had never thought of using it to treat dry skin. The Dr. Organic Aloe Vera Skin Lotion, that also contains cocoa and shea butter, ticked all of the boxes for me. It's soothing, hydrating and moisturising and turned my dry skin around in a couple of days. It smells really fresh, and the formula soaks into the skin within a few minutes. I hate moisturisers that are really thick, sticky and gloopy, but this is really smooth and means I don't have to jump around trying to let moisturiser dry in before I get dressed.
Now here's a product that I didn't even know existed – organic suncream! Who knew?! The Aloe Pura Organic Aloe Vera Sun Lotion SPF 25 is similar to the Aloe Vera Skin Lotion, but also offers protection from the sun. I'm terrified of getting sun burnt on holidays and am constantly covering myself in suncream, but I find some SPFs very chemically and stripping on the skin. Because this suncream has aloe vera and different oils in it, it's non-drying on the skin and keeps it hydrated, even in the heat. The product itself is white and quite thick, but sinks in after rubbing.
Finally, I tried the Lavera Organic Self-Tanning Lotion. I've tried mousse tans, liquid tans, shimmer tans, at-home spray tans, but never an organic tan. Like all of the products, it smells so nice! Really fruity and fresh – not the usual biscuit tan smell! It's a gradual tanner that develops over night for a light, natural glow. It contains macadamia and sunflower oil too, which leaves skin feeling super soft. To keep my pastiness at bay during the week, this tan is perfect as it leaves your skin looking like you've just been on holidays, without being too dark.
I know this is a pretty long post but I just had so much to say about these products! It feels so good to be using organic products on my skin, and I'm dying to pop in to Holland and Barrett to try out some more. Whether you're heading on holidays or having a staycation, these four are definitely worth trying out.