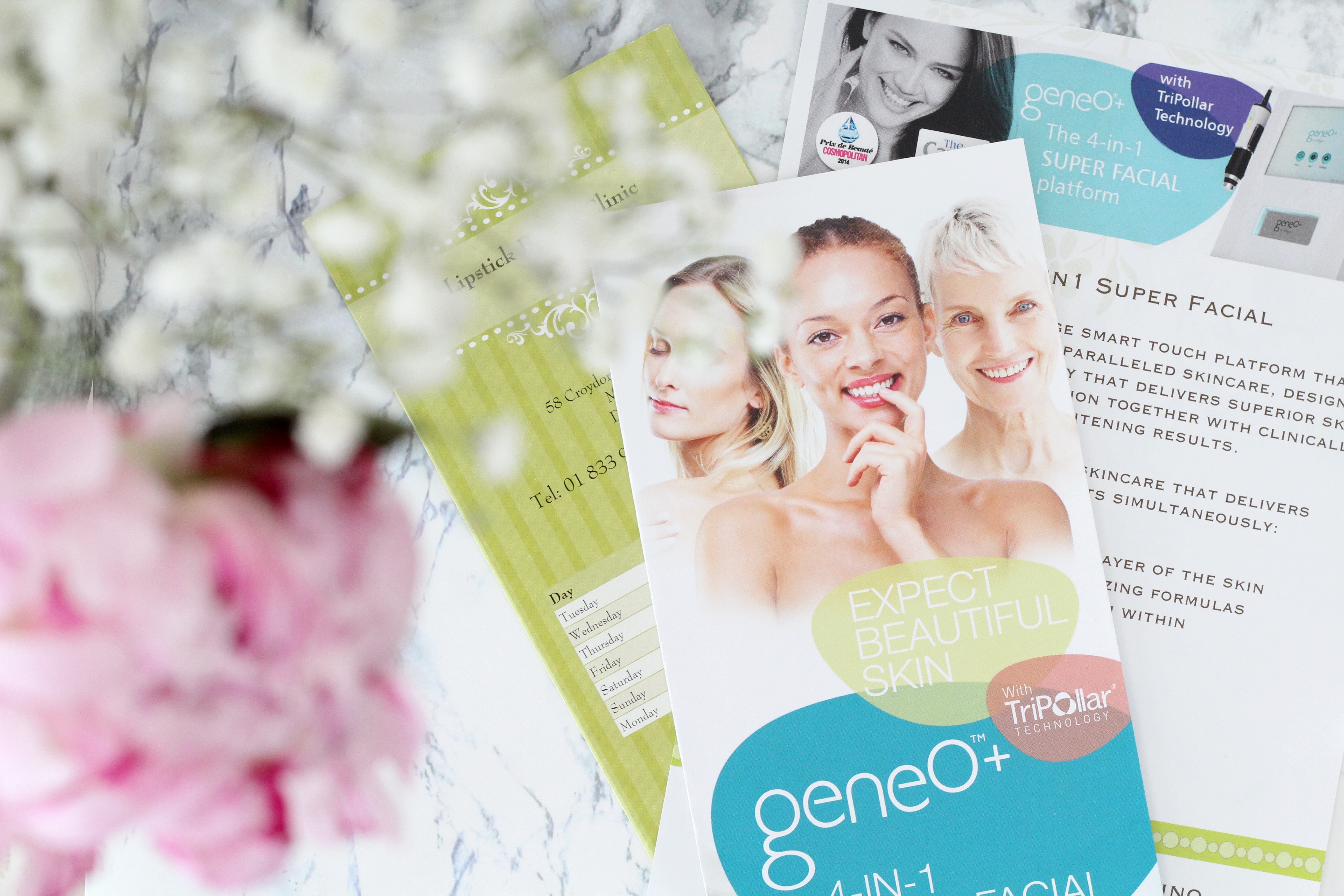 A few weeks ago I was kindly asked by the lovely Margo at Lipstick Beauty Marino if I would like to try out the new GeneO+ 4in1 Super Facial. I had a look online for some information about it, and I was so impressed with what the treatment offers. The facial exfoliates the skin, infuses it with nutrients, oxygenates the skin, as well as tightening and contouring it.
When I popped down to Margo's salon in Marino, Dublin, I was made to feel at home straight away and I was super excited to try the facial myself. I got the NeoBright treatment, which lightens, nourishes and rejuvenates the skin.
The facial involves a thick pen-like tool which has a rotating round pad at the end – this is called GeneO+. I was really relaxed lying on the salon bed and felt like I could nod off! A protective gel is applied before the treatment begins, which is really soothing on the skin.
Firstly, GeneO+ exfoliates the upper layer of the skin to remove dead skin cells and prepare it to receive active nutrients. The soft pad wears down to become more coarse, but it's still gentle and pain free on the skin. I looked at my skin after this part of the facial and already couldn't believe how it looked. I was so tired going into the salon but my skin was smooth, radiant and plump after the first treatment.
Next, through Capsugen, GeneO+ cleanses the skin and infuses it with nutrient-rich formulas. Inspired by natural hot springs, GeneO+ oxygenates the skin by producing tiny little CO2 bubbles which are absorbed into the skin.
Finally, radiofrequency,  which heats the skin from within, is used to produce collagen formation and to tighten collagen fibres in the skin.
The treatment lasted about an hour and I genuinely was so impressed with the results. For someone who suffers with breakouts, pigmentation and dullness, I never thought I could see my skin look so good. I truly can't remember my skin looking so well. My skin is glowing, bright and even. My entire face is so soft and plump, and any redness/pigmentation that I had is greatly reduced.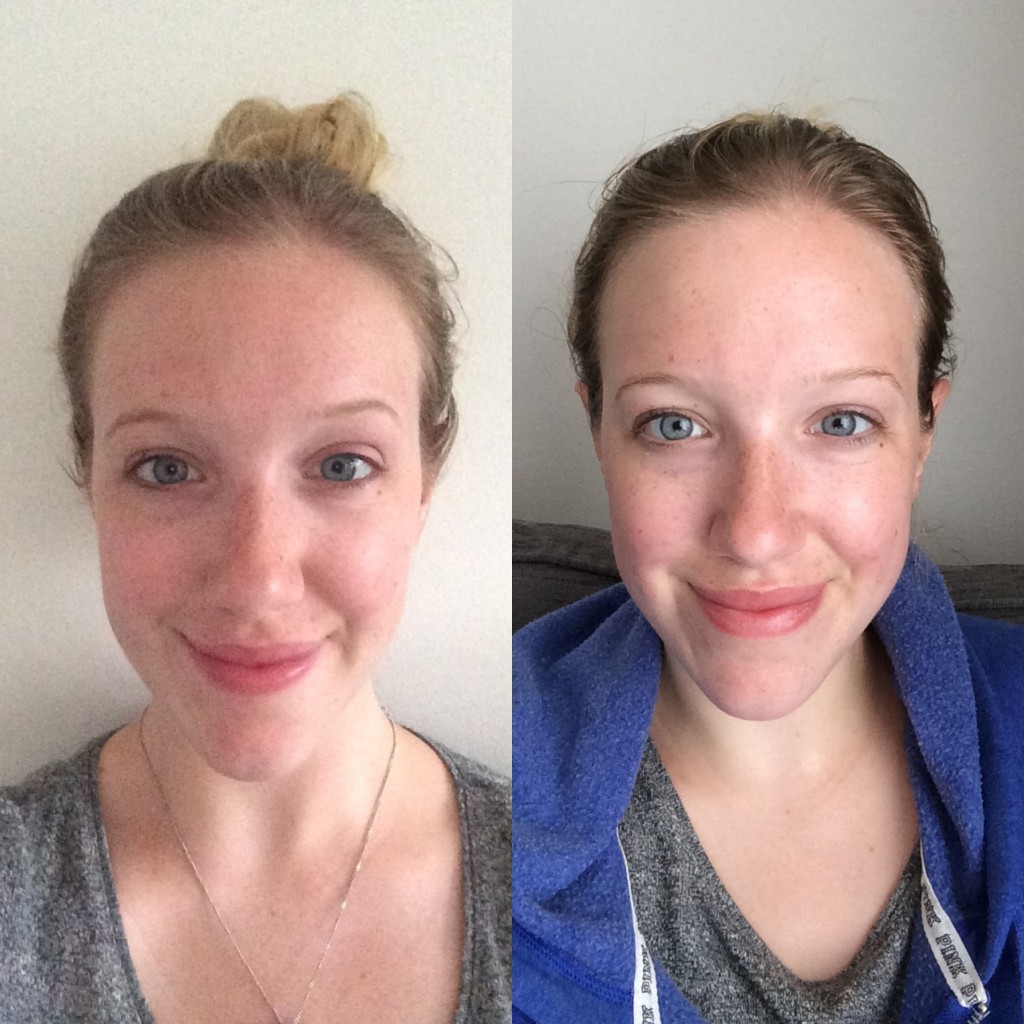 Before and after! (please excuse my egg head)
I was really worried that the facial would bring up loads of spots in my skin, but I shouldn't have worried at all. In fact, I've actually had less breakouts than I usually would.
Nearly a week after the facial, my skin still looks as good as it did the day I got the treatment done. I feel so much more confident without makeup, and can't stop looking at how bright and clear my skin is! It's genuinely like I have a new face :')
Instead of the NeoBright treatment, which I got, there's also the NeoRevive formula that focuses on anti-ageing and rejuvenating the skin, so there's something for everyone.
Margo is so lovely and professional, I couldn't have enjoyed the treatment more. The facial costs €125, which I know sounds steep, but when you break it down – it's a really great deal. You get 4 treatments in 1, with immediate results. As I said, I've genuinely never seen my skin look so good, and I think that's priceless.
A course of 6 treatments is recommended for the best results, but if you have a special occasion or want to treat yourself, then just one is perfect! Margo is doing a special offer at the moment for 6 treatments at €700, meaning you save €50.
Lipstick Beauty Clinic is located in Marino, easily accessed by the 123 bus. Margo also offers LYCON waxing, which is practically painless. A huge thank you to Margo for giving me the opportunity to try this out, I am so happy to now have skin that I can proudly show, without always hiding it under makeup!
Check out the Lipstick Beauty Clinic website, FaceBook page, or call 01-8339922.