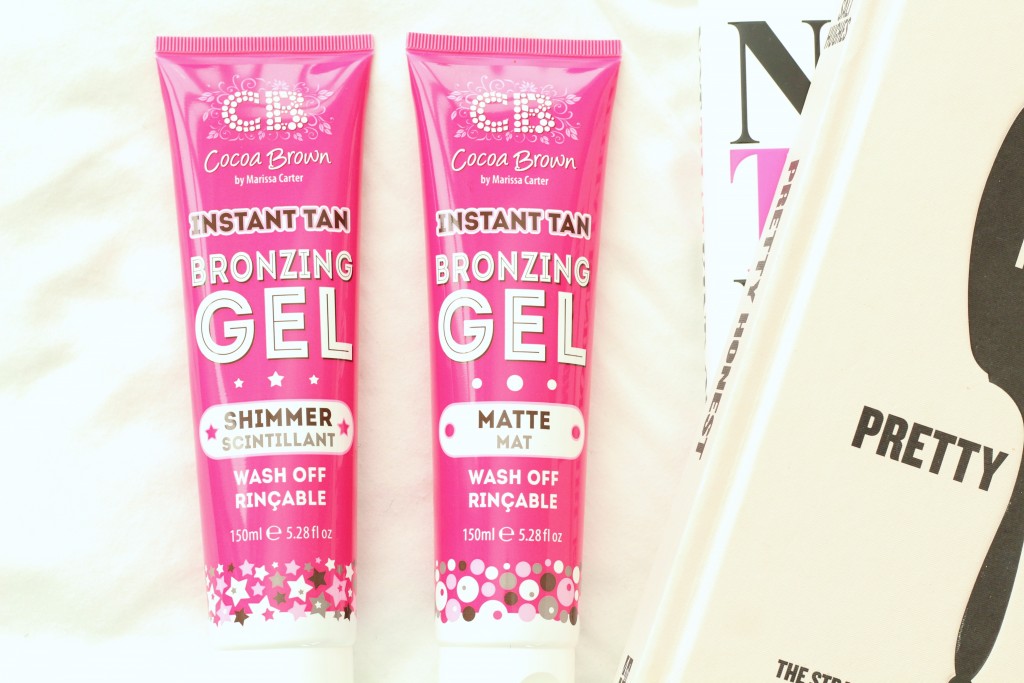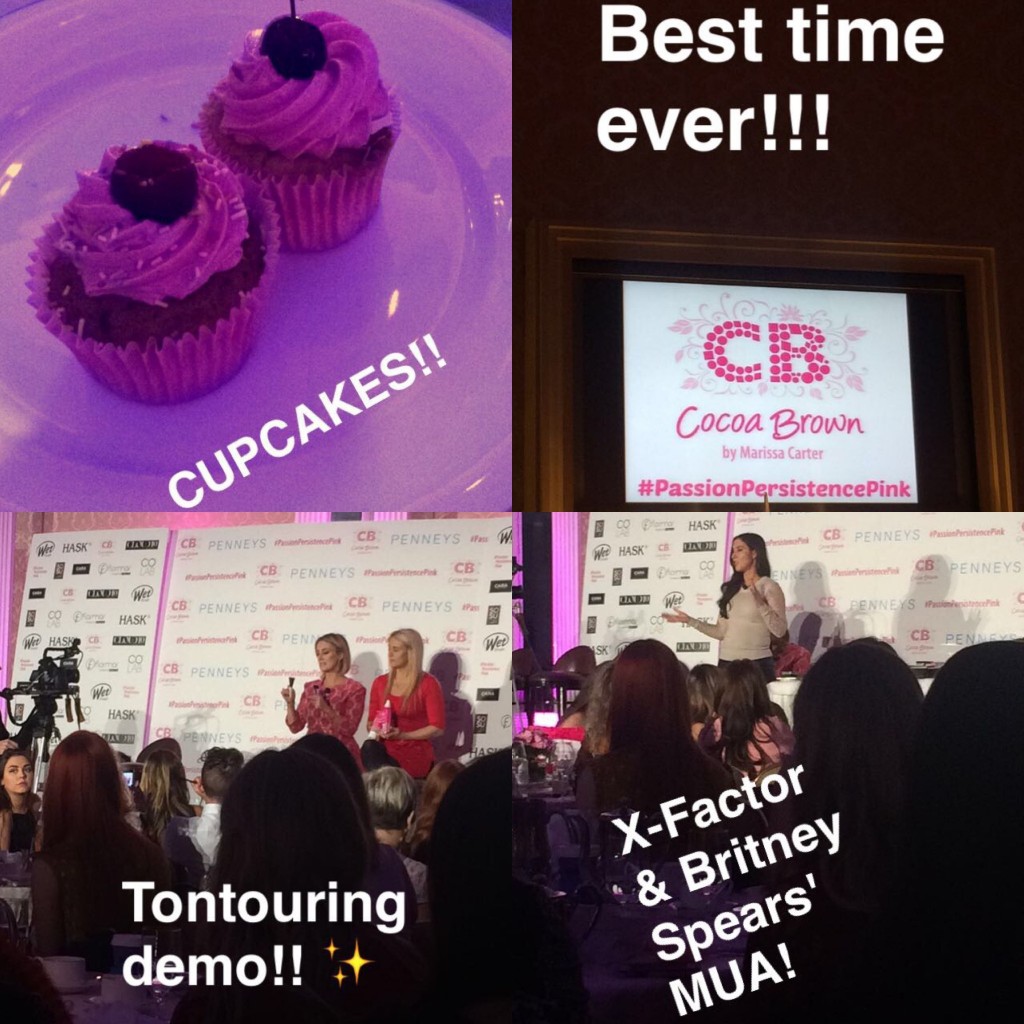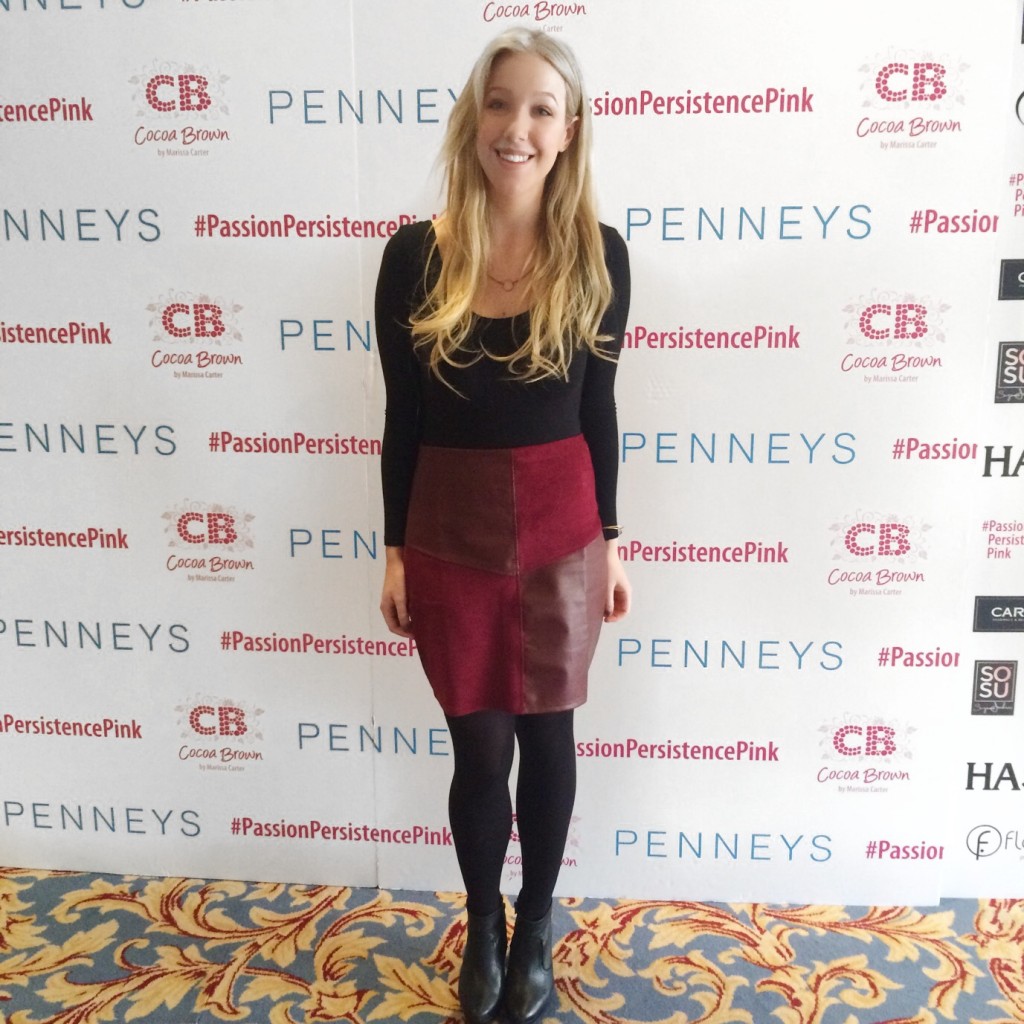 If you were on social media and in Ireland this weekend, chances are you saw and heard a lot of people talking about Cocoa Brown's #PassionPersistencePink event. I've been a huge fan and supporter of Cocoa Brown and the lovely Marissa Carter since the brand launched a few years ago, so to say I was excited to attend this event is an understatement!
I met the lovely Melly from Glamfire Diaries before we headed to the event in the Shelbourne Hotel. As soon as we walked in we saw the gorgeous Marissa and X-Factor makeup artist Julia Carta, so of course we hopped in a picture with them! We then headed into The Great Room, where there were loads of tables set up for us to sit and drink tea, and a huge stage for demos, Q&A's, and of course, the two new product reveals!
The day kicked off with ombre lip tutorials by the gorgeous Rosie Connolly, Tara O'Farrell and AJ Fitzsimons. We were then told to look under our chairs, where a Flormar lipstick and liner were stuck! I'm a huge fan of Flormar products, so I'm so excited to try them out. Thanks to Penneys, one of the event's fabulous sponsors, there were vouchers galore. I was delighted when I looked under my plate to see a Penneys gift card stuck underneath! I'm dying to take a trip to town this weekend and spend it.
Marissa herself then did a "tontouring" demo on stage. Tontouring has exploded over the past few weeks, and basically is contouring with fake tan. Step one is to apply Gentle Bronze all over the face, step two is to contour with 1hr Tan along your cheekbones, temples and wherever you'd like to put it, using a contour brush. Finally, step three is to blend the product in with a stippling brush so there are no harsh lines. Go to bed, and then wake up in the morning with a glowing, tontoured face! I've tried Marissa's technique before and I absolutely love it.
Then, what we were all waiting for, we got to hear about the two new Cocoa Brown products –  the Instant Tan Bronzing Gels in Shimmer and in Matte! I haven't used an instant tan in years, simply because the colour never comes out right and they stink of that fake tan smell! I've swatched the two new products and can honestly say that I am so impressed. The colour payoff is even, smooth and natural and they smell fresh, like the other Cocoa Brown tans. I'm heading out this weekend, so I'll be sure to use both of these and report back as soon as possible!
The products are currently available for pre-order on cloud10beauty.com, and will be available for €6.99 from October 12th in all Cocoa Brown stockists.
After the product reveal, we got to root through our swag bags, which were filled with gorgeous goodies, such as a Hask shampoo and conditioner, the Wet Brush, the Cocoa Brown velvet tanning mitt and a SOSU nail polish. We were also treated to an afternoon tea of sandwiches, canopes and cupcakes – which were all delicious!
Lastly, Britney Spears' world tour makeup artist and Simon Cowell's makeup artist, Julia Carta, gave us a makeup tutorial while she and Marissa did a Q&A session. The key point that I picked up from the tutorial was to apply makeup in many thin layers, rather than a few heavy layers. She did a feminine, glowy makeup look on Marissa, using both high-end and budget makeup products.
From start to finish it was a truly amazing day. The room was full of 300 beautiful, inspiring women (and a few men!), and I left feeling so happy and inspired! From my outfit picture above, I wore a bodysuit from American Apparel, a leather and suede skirt from Missguided and boots from Topshop. I documented the whole day on my Snapchat, so be sure to add me at whatshedoesnow if you want to see more beauty news and other events!
A huge thank you to all of the wonderful Cocoa Brown ladies who made Sunday such an incredible day – I'm sure I'll never forget it!
*Don't let anyone dull your sparkle*