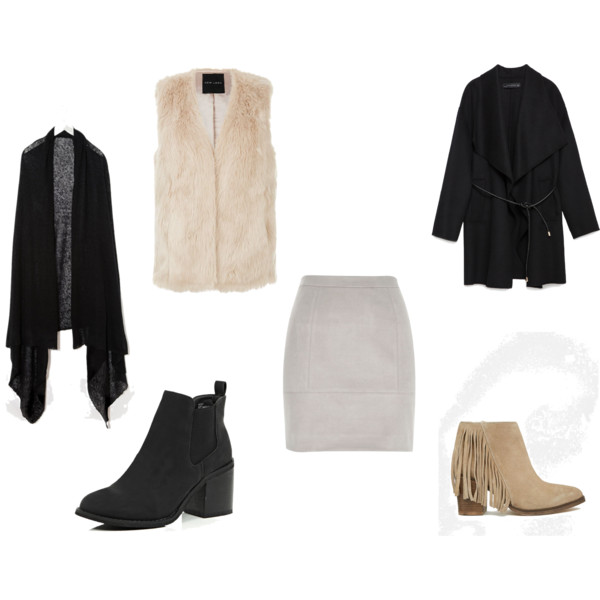 Writing this post while I'm trying not to shop really wasn't a good idea, but I couldn't resist putting together a few pieces that I'm loving at the minute. In the colder months especially, I'm all about comfort. I just want to be warm and cosy, and if I can look half-decent while ticking those two boxes, I'm pretty happy.
I want to pick up a few essentials that'll carry me through the next few months, without blowing the bank. Here's what's on my list:
ASOS Oversized Scarf – Scarves are the easiest and most affordable way to change up an outfit. They're so cosy and from September onwards I never leave the house without one. This black one from ASOS is different to anything I already have, and doubles up as a cape – bargain!
New Look Faux Fur Gilet – I never thought I'd be one to wear a fur gilet, but I love this one! I think it would look really nice over a leather jacket, and the fur adds a bit of luxury to an otherwise simple outfit.
Zara Black Coat – How gorgeous is this coat?! I absolutely love it! I bought a good winter coat two years ago and have worn it to death, so I think it's time to get a new one. For €129, I think it's a really good price to pay. I love how it can be casual or dressy, and you can wear it open or with different belts. This will 100% be my next purchase!
River Island Suede Skirt – Skirts aren't really my thing, but I can see myself wearing this one. I love the unusual grey colour and think it would look really nice with a knitted polo jumper, boots and a fur gilet.
River Island Chelsea Boots – All year round, Chelsea boots are my shoe of choice. Meaning that I wear the soles off them and always have to buy new pairs! I love the mid-heel of these boots and think they'd be easy to wear with anything.
ASOS Fringe Boots – *angels singing* I am obsessed with these boots. They're so different to anything I own, and would update even the simplest outfit. The light colour and suede material means these probably wouldn't be too good when the weather gets bad, but they're so gorgeous I'd buy them anyway to wear on dry days!
Is it payday yet?! I don't know if I can wait another two weeks to do my autumn shop! What're your autumn wardrobe essentials?!