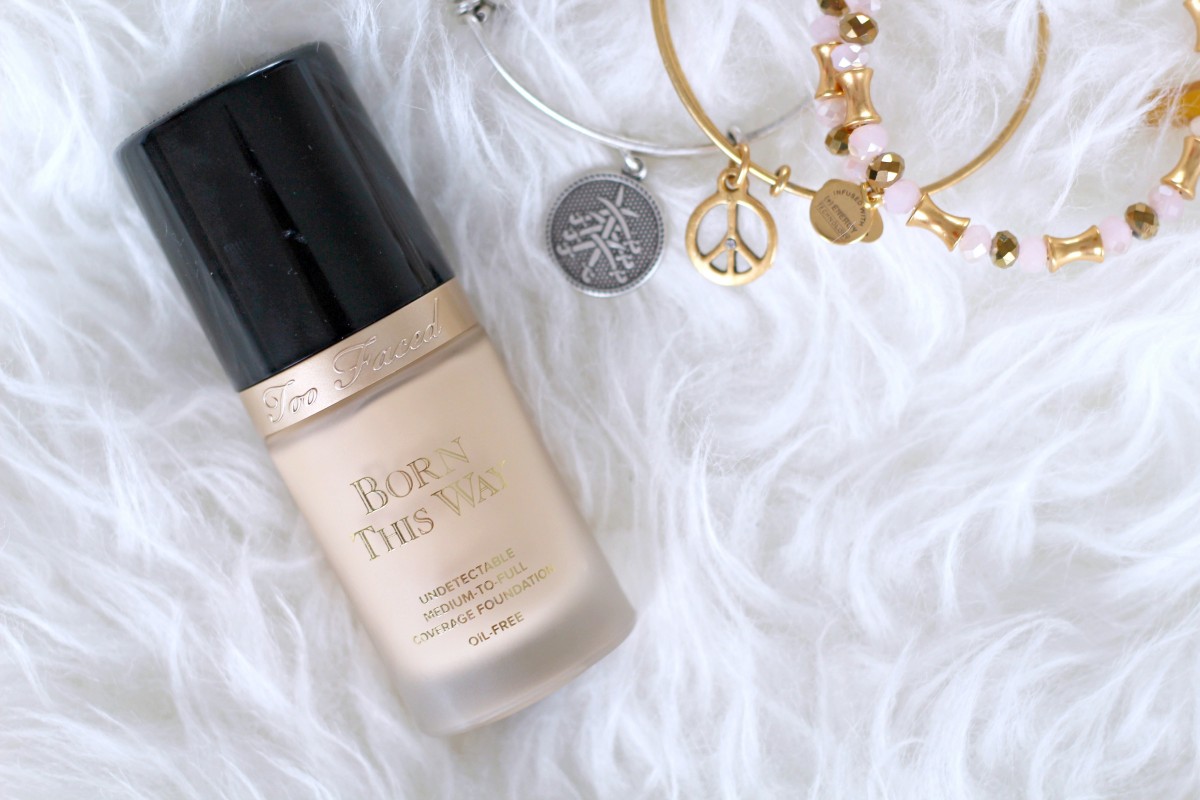 Oh boy – this is a good 'un.
Too Faced Born This Way* is the latest foundation I've been trying out – and I'm totally in love with it.
I've used it pretty much everyday for nearly two months now and I can't see myself stopping anytime soon. It's the perfect everyday foundation to wear to work, on weekends, even on nights out. It just ticks all the boxes.
Unlike many products, this foundation does exactly what it says on the tin.
Formula // It's a liquid foundation with a pump. The liquid isn't runny but it isn't thick or heavy either, it's kind of in between. I use the Real Techniques Buffing Brush to apply this. This foundation boasts several skin-loving ingredients including coconut water (to moisturise), alpine rose (to brighten) and hyaluronic acid (to plump). It's also oil-free and SPF-free, which is ideal for pictures.
Coverage // It's medium to full buildable coverage that covers redness, spots and blemishes and discolouration. One pump is enough to cover my whole face.
Finish // Flawless. I've honestly never tried a foundation before that gives such a flawless, natural finish. It blurs imperfections and perfects the skin like nothing I've ever seen before. You know how the Snapchat dog filter makes your skin look amazing? It's just like that but in real life. I'd say it has a satin finish on the skin, that isn't matte but isn't glowy either. It's very natural and just looks like your skin but better.
Lasting-power // I don't use a primer with this, but add just a bit of powder on my T-zone after applying to stop excess shine. This foundation definitely becomes more glowy on my skin throughout the day (I've combination skin), but doesn't take away from the flawless effect.
Colour-match // I use the shade Porcelain and it's a perfect match for me without any tan on. If I'm wearing tan, I just add some extra bronzer and we're good to go.
Price // The foundation costs €35 for 30ml from Debenhams, which I think is pretty reasonable. It's a foundation that can be used day or night, so you'd definitely get your money's worth out of it.
Verdict // I'm a massive fan of this foundation and can see myself using it for a very long time. I usually have this on for about 12 hours a day and by the end of the day I'm never disappointed. It does everything you want a foundation to do and requires little effort to apply. I'd recommend this for any skin type as it is oil-free, but also has hydrating properties. I haven't tried many Too Faced products before but that will definitely be changing from now on!