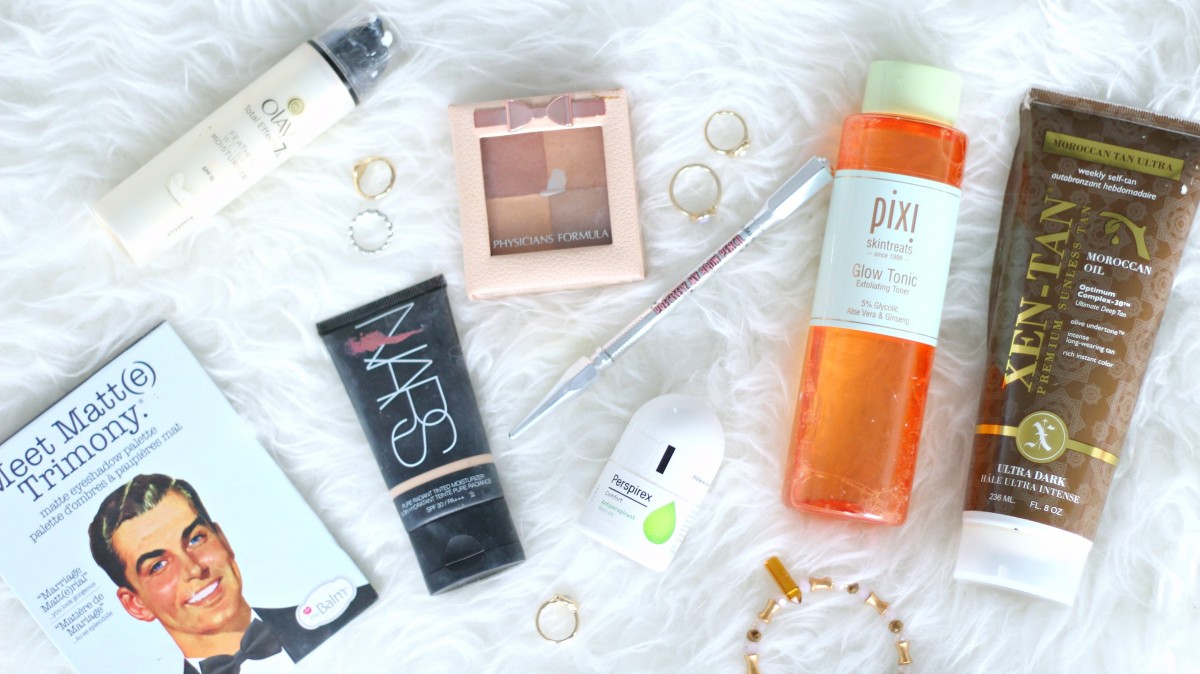 As I sit writing this, I'm wrapped up in a fluffy dressing gown, drinking a cup of tea and listening to the rain pouring down outside, which I think is a testament to how much summer is really over.
I didn't really get a chance to try out any 'summer' products until I went on my holidays in the middle of August, when summer was already over for most people.
Saying that, I found some total gems that I used throughout the summer months, at home and abroad, and I can see myself using them through the autumn and winter too.
Here are my best products of summer:
The Olay Total Effects 7in1 Moisturiser*  has been a firm favourite for a good few months now. It makes my skin look and feel amazing, gives plenty of hydration and gives a nice glow to the skin. Makeup applies well on top of it, and it's super affordable too, making this a product I'll buy again and again quite a while.
I've used The Balm Meet Matt(e) Trimony palette all summer. There literally hasn't been a day that I haven't used it. It's the only palette I used on holidays, despite bringing a couple of other eyeshadows with me. It includes every colour you need for day and night, and the pigmentation is amazing.
The Physicians Formula Nude Wear Glowing Nude Bronzer*, again, is the only bronzer I used all summer. It gives a gorgeous, natural glow to the skin, as well as adding some definition to the face. It has a slight bit of shimmer, but that only makes the skin look even better. Sometimes I use this as an eyeshadow when I'm on the go or in a rush for work in the morning.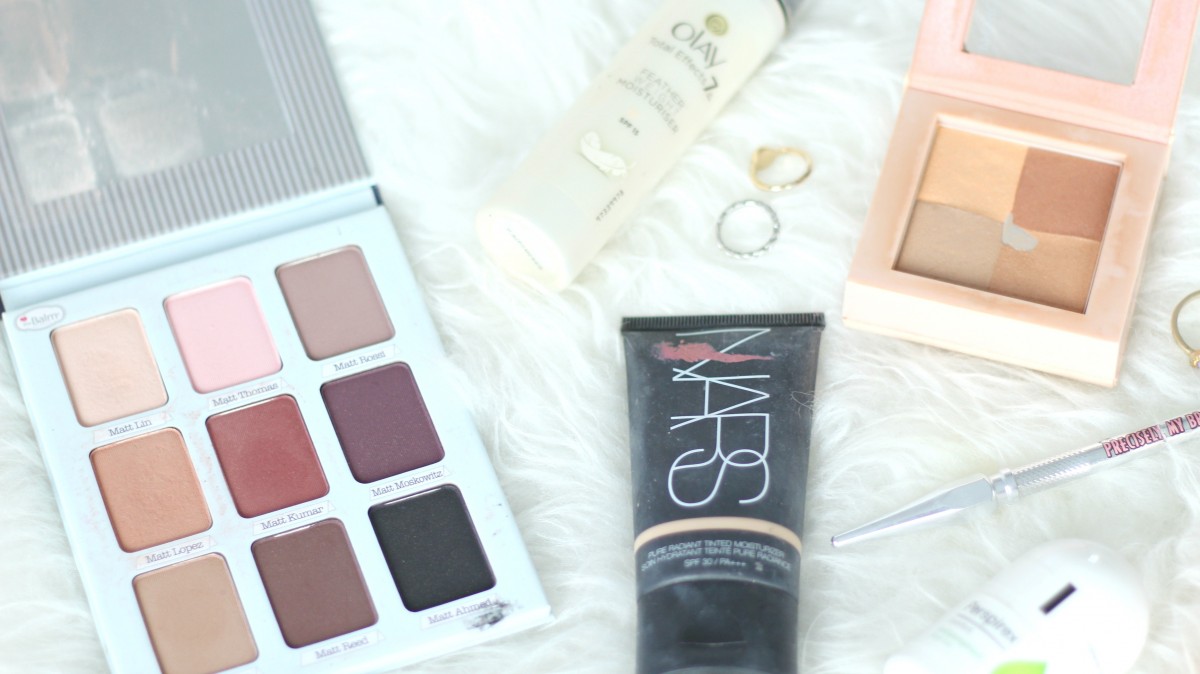 How grubby my NARS Pure Radiant Tinted Moisturiser is shows exactly just how much I use it. The formula is light, while providing good coverage, and has great lasting power. I use this most days now instead of a foundation. I use the shade Finland and it's perfect.
The Precisely, My Brow Pencil* by Benefit has taken over as my favourite eyebrow pencil of all time. And that's a pretty big statement to make. Like the Soap and Glory Archery Brow Pencil (my former favourite), it has a tiny nib and a spoolie and the other end. However, the formula and pigmentation of this is miles better, in my opinion. I use shade 3 and it's an ideal match for my blonde hair. It's long lasting, easy to use and gives killer brows. Highly recommend.
Perspirex isn't the prettiest of beauty products, but it's a total life saver. Basically it's a formula that you apply to your arm pits that stops you from sweating for 3-5 days. In the summer (and all year round) it's an amazing product to have because sometimes deodorant just doesn't do the trick, and with this you know you can wear whatever colour you want without having to worry about unpleasant marks.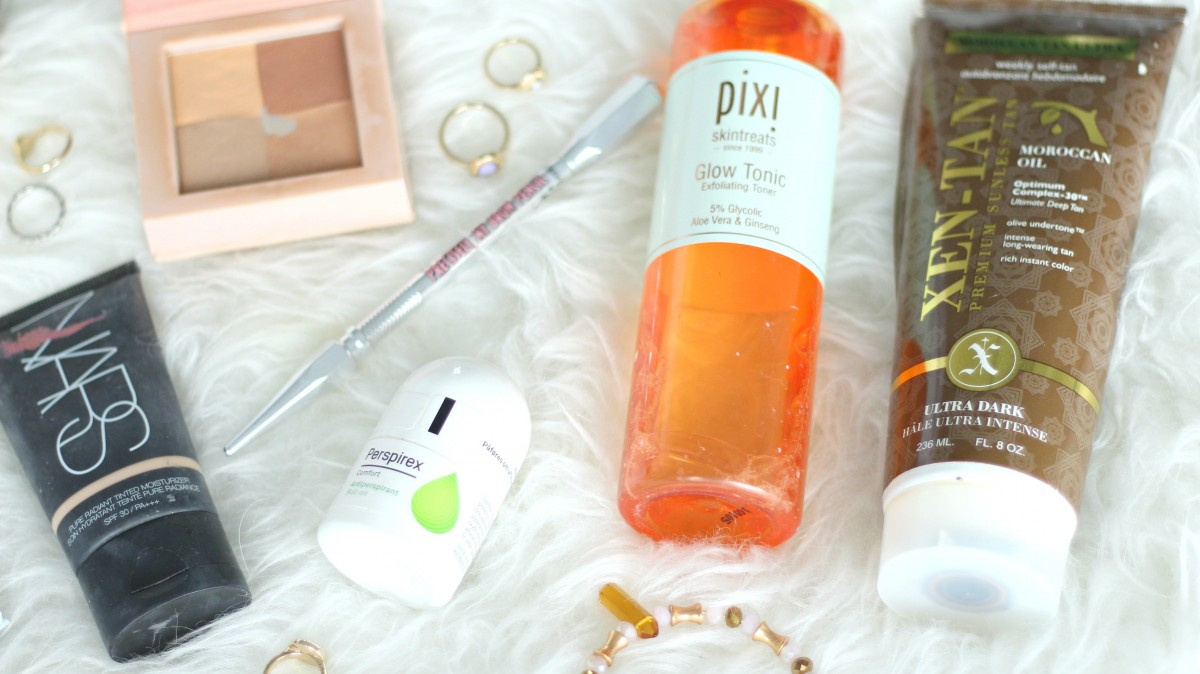 Pixi Glow Tonic has revolutionised my skin. It rids it of impurities, dry patches and gives it an amazing glow I never knew my skin could have. It's improved the texture and appearance of my skin, making it look better with and without makeup. I can't go a day without using it.
I'm a huge lover of fake tan, but I don't like having to reapply it every few days. The Xen Tan Moroccan Tan Ultra* in Ultra Dark is pricey, but lasts on the skin for more than seven days. Even if I went to the sun I wouldn't get a natural tan, so this is the closest I can get. The colour it gives is absolutely gorgeous, and really doesn't look like a fake tan at all.
This summer was a major success for finding holy grail beauty products, that's for sure. What's even better is, I can still use these products through autumn and winter because they're not 'summer only' products. Now I'm excited to see what the next few months will bring!