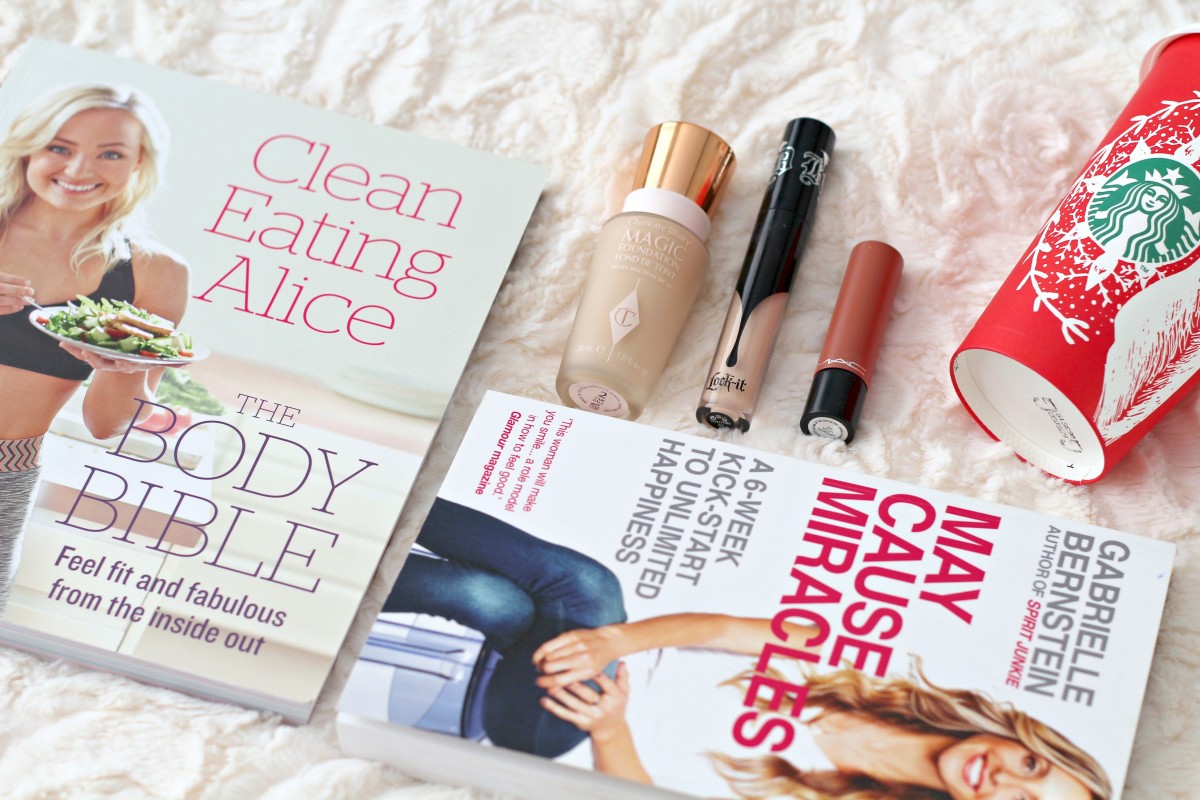 I've fallen slightly out of love with monthly favourites posts, so instead I'm going to stick with showing you what I like in this style of post. I've been trying out lots of new things lately and these are just a few bits that have stood out to me, with a few lifestyle things thrown in for good measure.
PS – Some of the items mentioned could also work well as gifts!
The Body Bible by Clean Eating Alice – I love Alice's Snapchat and Instagram feed, so I had to pick up her book. It's packed full of inspiration, information and easy recipes that will actually keep you full throughout the day. I haven't yet tried any of the workouts, but I've read through them and they seem easy to follow and require minimal equipment. If you're looking for a book that has a bit of everything, this is the one!
May Cause Miracles by Gabrielle Bernstein – I'm always picking up positivity and happiness books, and this is the latest one that I'm reading. The format is simple, with a morning and evening exercise everyday for six weeks. They don't take long to read and I find that starting and ending the day with the book keeps me in a positive state of mind. I don't always get to read it every day, but I dip in and out when I can. If you're in need of a boost, it would be worth looking into this!
Charlotte Tilbury Magic Foundation – I've been loving this foundation in the colder months as it perfectly matches my natural skin tone. I don't often wear fake tan in winter, so this foundation matches me at my palest. I wear shade 2 and it's a perfect match. It's hydrating on the skin and gives good coverage without being too heavy.
Kat Von D Lock It Concealer – My skin hasn't been the best lately and I've had quite a few nasty breakouts, so I've had to take out the big guns. This concealer covers everything in just one dab without being cakey. I use the shade neutral, which also matches me at my palest.
MAC Liptensity Lipstick in Doe – As soon as I saw swatches of this shade, I knew I had to pick it up. It's a gorgeous nude/pink and the formula is the perfect mix of hydrating and pigmented. It's perfect for the colder days when you don't want to wear a matte lip but still want colour payoff. I haven't stopped using this – love, love, love! 
Starbucks red cups – Yes, I'm basic, I know. But come on, nothing says Christmas like Starbucks red cups! I'm loving hot drinks in general – you won't see me without a mug in my hand until March. I'm yet to master a homemade hot chocolate, but I'm going to keep trying!
Crazy Ex Girlfriend – If you haven't watched Crazy Ex Girlfriend on Netflix, get bingeing. Give it a few episodes and you'll be obsessed – I promise. It's funny and a bit ridiculous, but sometimes that's just what you need.
Brunch – After five years of working every weekend, I finally have some weekends to myself. I've gone out for brunch every Sunday for the past few weeks and I'm loving it. It's a great way to catch up and helps the Sunday night fear, for sure. Pancakes, bacon and a cappuccino is my order every week, FYI.
Knitted jumpers – Just like hot drinks, I won't be without a knitted jumper until March. They're so warm and cosy, and look great with everything. My favourites are from Missguided. (Bonus points if they're pink.)
Marissa Lace – Listing Marissa as one of the things I'm loving right now might sound a bit creepy, but bear with me. If you don't follow Marissa on Snapchat/Twitter/Instagram/YouTube, go and do it now! Her videos and social media posts are so positive and uplifting – a nice change from what social media can be like at times. She's honest and there's absolutely no bullshit, which I greatly admire. Have a look at her Instagram feed and thank me later.
What have you been loving lately? Let me know in the comments!