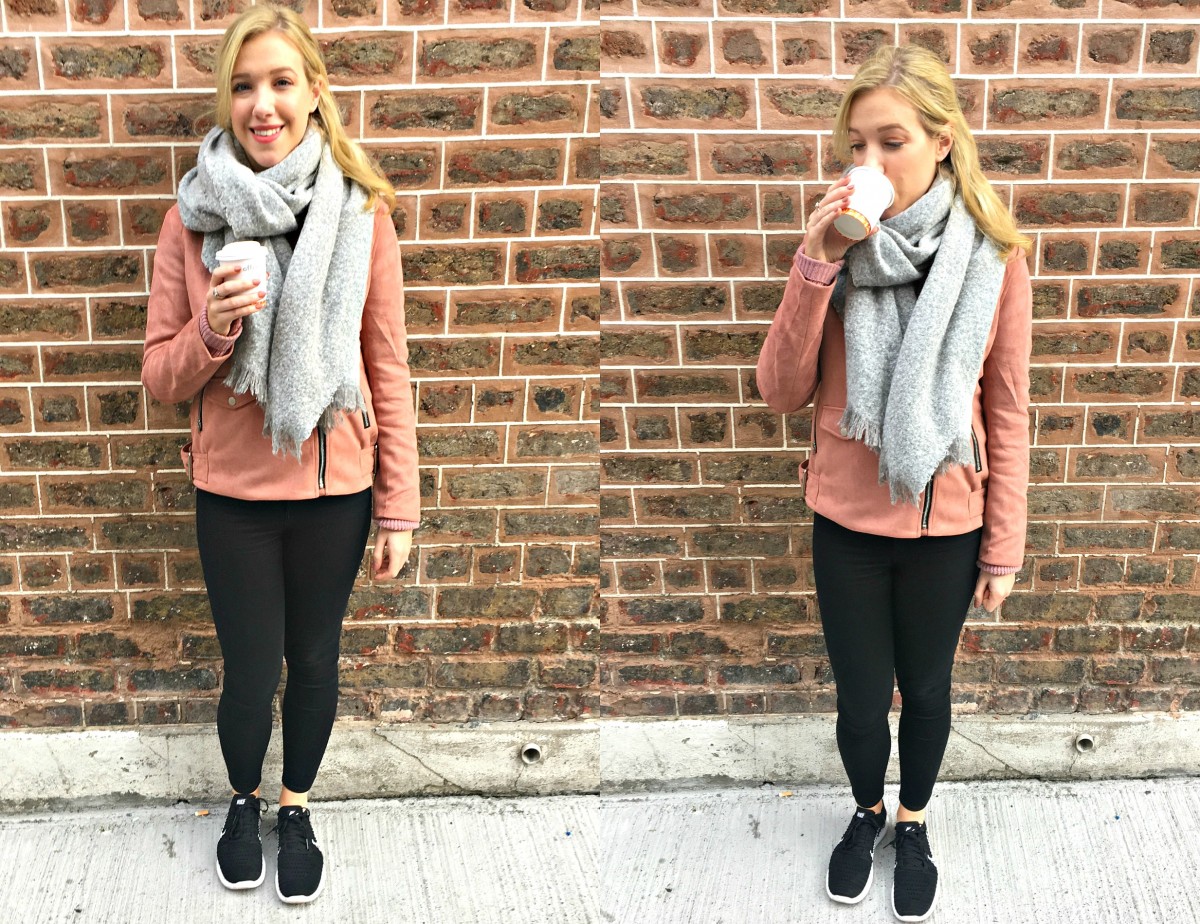 It's been a very, very long time since I've published an outfit post and there's a couple of reasons why. Despite originally starting WhatSheDoesNow as a mainly fashion-focussed blog, over time it has leaned more towards beauty and positivity, which I'm totally okay with.
Although I may not wear couture or the latest trends, clothes and fashion are two things I've always been interested in and am hugely passionate about.
Fashion to me is about being comfortable and feeling good, and that's what I always think of when buying and wearing cloths. On my days off you'll probably find me makeup-free, wearing leggings, a loose t-shirt and a furry hoody around the house. Most days, I'll be in skinny jeans, a 'nice' top or jumper, a jacket, boots and a big scarf in winter. Summer style isn't really my thing for day-to-day wear in Ireland as I associate summer clothes with being on holidays, and it just feels odd if I wear shorts or a playsuit out my back garden.
However, because I wouldn't consider myself 'high fashion' on a day-to-day basis, I've gotten the idea in my head that I shouldn't post my outfits here. 'Sure, why would I? No one wants to see what I'm wearing,' is the thought that creeps into my head when I think about doing an outfit post. With such a high standard of fashion bloggers out there it can make it very overwhelming for the average Joe to do an outfit post.
Even the thought of doing an outfit post is enough to stress me out sometimes because, in my opinion, there's a lot more planning that goes into doing a fashion shoot than taking photos of makeup on my bed. A typical fashion shoot includes:
Bringing a friend/family member/tripod along
Finding somewhere nice to take a photo
Doing nice hair and makeup
Carefully planning a picture-perfect outfit
Bringing a camera/lenses
Yet, on Sunday, when the photos from this post were taken, I spontaneously decided that I wanted to take some photos of what I was wearing. I was after enjoying a lovely brunch with my boyfriend and we were walking around drinking coffee when I just said, 'F*ck it.'
Autumn/winter is my favourite time of year fashion-wise, with big scarves, cosy coats, boots and bobble hats, and on Sunday I really liked what I was wearing so I scrapped the stress of what I would usually associate with an outfit post and asked my boyfriend to take a few photos on my iPhone.
Although they may not be perfect and posing casually is certainly not my forte, I just decided that my love of fashion is greater than the 'perfect' post.
With all of that said, I hope to do more impromptu outfit photos in the coming weeks and months as they are honestly something I really enjoy doing. It can be so easy to compare yourself to other people and other bloggers but, at the end of the day, comparison will get you no where.
Now that's sorted, here's what I wore!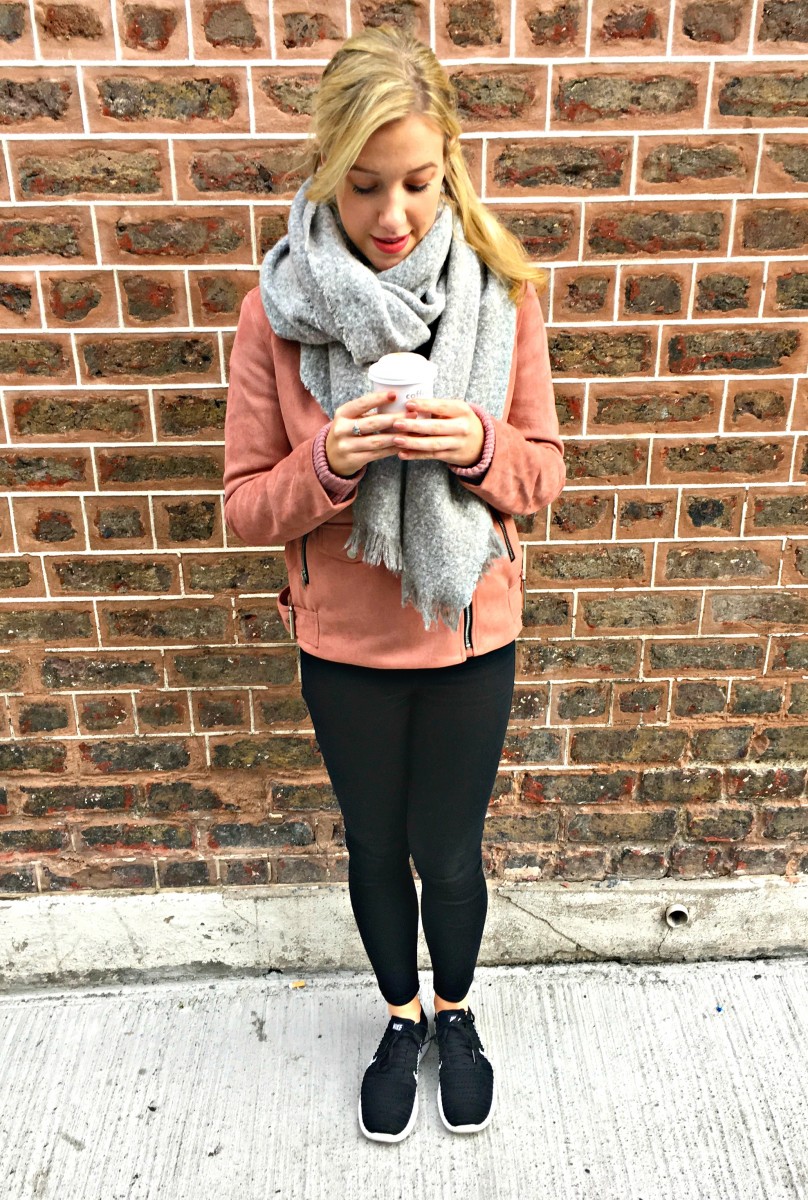 I bought this pink suede jacket from Missguided a few weeks ago and have just started to wear it now that the weather is getting colder. I absolutely love the biker style and blush pink colour, and think it gives a really nice pop of colour and looks so pretty and feminine. The suede is super soft and I love the slightly oversized fit so that there's room for layers underneath.
I haven't taken off my grey blanket scarf since I bought it in Penneys a couple of weeks ago. It was only €9, and I think it looks much more expensive than that. At first the fluff from the scarf came off everywhere but I put it in the washing machine and now it's fine. It's so soft and cosy – I think I'm going to buy another one in case this one gets grubby!
Under the jacket, I wore a pink cropped jumper, also from Missguided (sold out online). Can you tell how much I'm loving pink lately?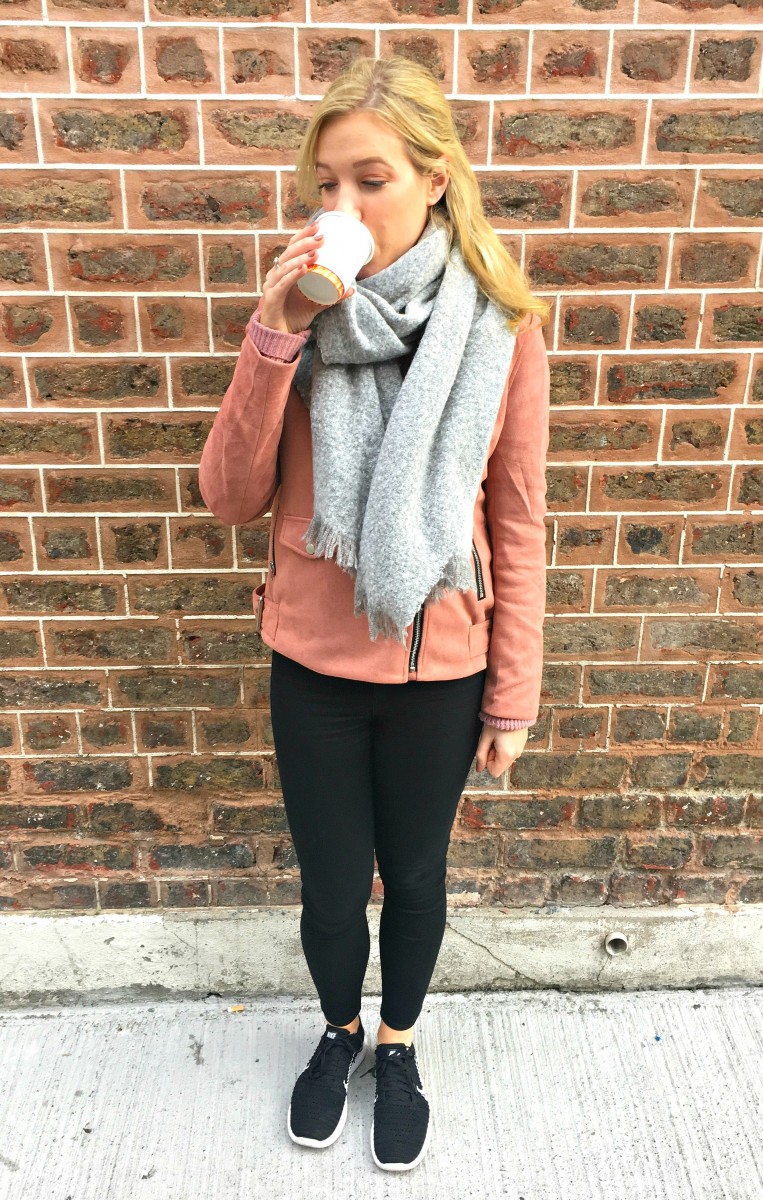 As for my bottom half, I chose my favourite black Joni jeans from Topshop and Nike Free RN Flyknit runners. The runners are honestly so comfortable – I wear them with everything!
I've worn this outfit several times over the last few weeks and love it even more every time I put it on. I love the pink and grey combination of the scarf and jacket, although I'll definitely be adding a grey bobble hat when it gets cold enough. I'll also be swapping the runners for my favourite thigh high boots from Public Desire – although the details about them are for another post 😉
I hope you enjoyed this outfit/chatty post as much as I enjoyed writing it!
What are your favourite things in your A/W wardrobe?