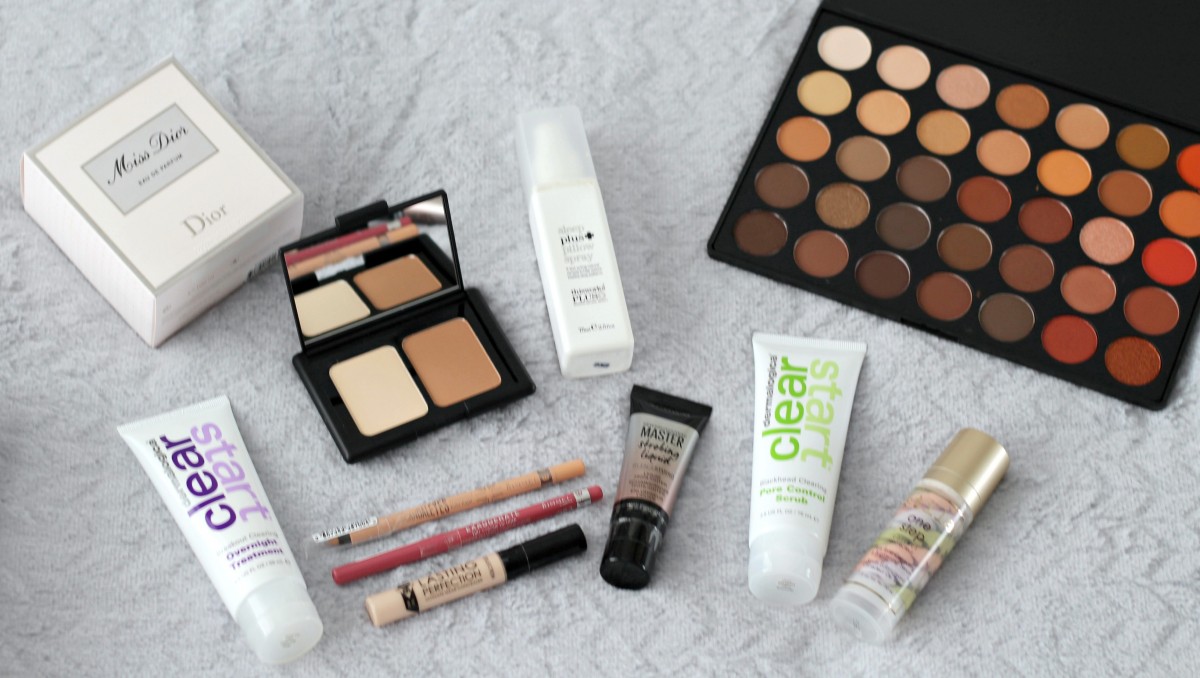 Let me begin by saying that I apologise for the quality of the first photo. I spontaneously decided to do this post rather than doing a Snapchat haul (whatshedoesnow), and as I went to photograph it my camera started flashing at me saying the battery was going to die and it was stressing me out, so I took these photos super quickly.
With that aside, I've done a bit of beauty shopping lately and thought I'd share my purchases with you. I know some people really hate hauls, but I personally love them. I love seeing what people are buying and getting inspiration for things to buy  the next time I'm shopping. A lot of products in my collection are thanks to other bloggers and YouTubers hauls, and I've found some life-long favourites from them.
I've collected these bits over the past couple of weeks, both makeup and skincare, online and in store. I won't give full reviews because this post will go on forever, but I'll include them in posts over the next couple of weeks and if there's anything in particular you'd like to know more about, leave a comment below and I'll get back to you!
My first purchases were from yet another Beauty Bay order. I can't go a week without looking on the website and adding something to my wishlist. I was lacking a primer in my collection, so after doing some research I picked up the Stila One Step Correct Primer. It colour corrects, primes and brightens the skin all in one go thanks to its tricolour formula. I've used it for the past two weeks and so far I love it. It's a good base for makeup and makes my skin feel great.
I repurchased the This Works Deep Sleep Plus Pillow Spray. I've raved about this before and it has dramatically improved my sleep. I haven't yet run out of my first bottle, but I couldn't risk not having a back up.
In a separate order from Beauty Bay, I finally got my hands on the Morphe 35O Palette. I know, I know, I said my eyeshadow collection was complete thanks to the Violet Voss Holy Grail Palette, and it is, but I've wanted this for so long. I was around €26 and when I saw it was in stock I took it as a sign from the gods. I haven't tried it yet, but something tells me I'm going to love it.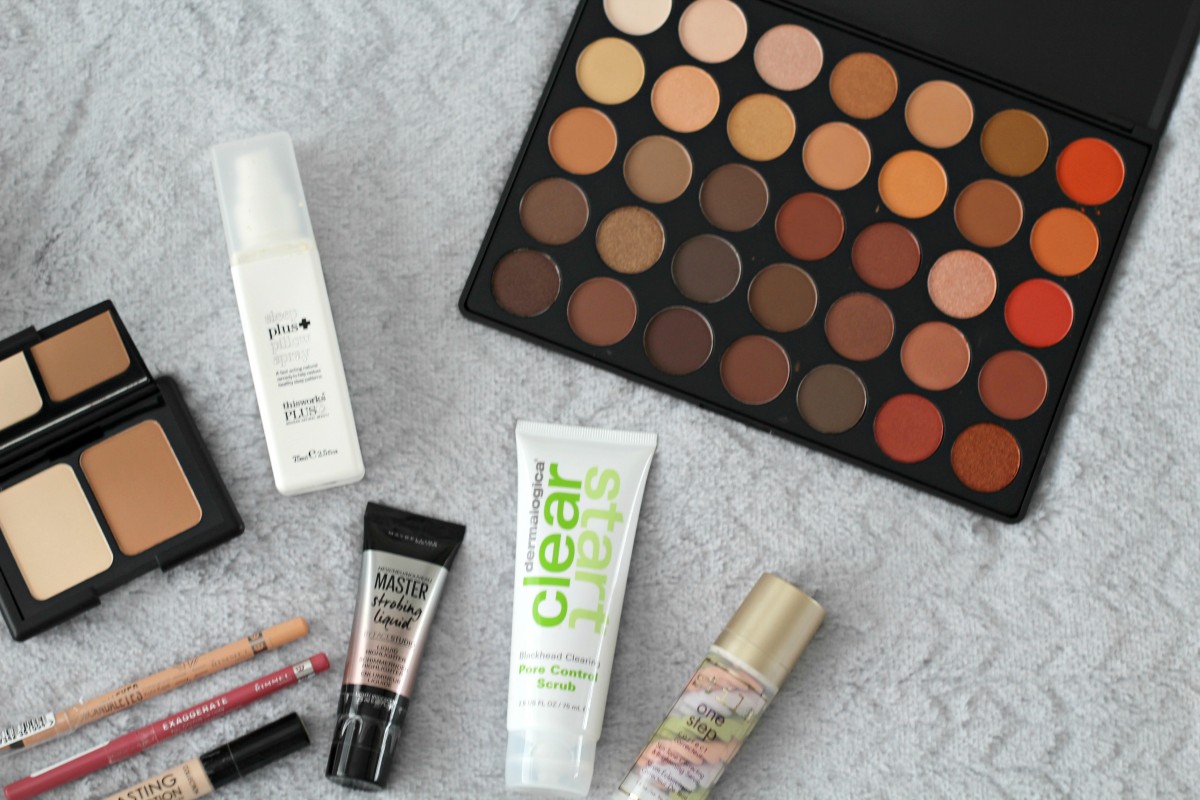 I've had extraordinarily bad breakouts over the past few weeks and I just can't put my finger on what's causing them. I'm sure it's something to do with my M&M crispy and Tangfastics addiction, but that's nothing new and my skin has never been this bad. In an effort to combat the small village of spots all over my face, I said I'd invest in some high quality spot treatments from Dermalogica.
Surprisingly, each product was only €16 each, which I think it quite affordable for such a high end brand. I got the Clear Start Overnight Treatment and Pore Control Scrub. I've used the treatment every night for the last week and it hasn't dried out my skin at all, which I'm pretty impressed with. It has treated existing spots and so far it's preventing as many spots from coming to the surface of my skin. The scrub is gentle and leaves my skin feeling clean but not stripped. It's early days yet but I'll report back when I've used them for a longer length of time.
Perfume isn't something I purchase very often, maybe one every year, so after reaching the bottom of my favourite Viktor & Rolf Flowerbomb, I said I'd try something new. I asked my dad to pick up the Miss Dior perfume in the airport to shave a bit off the price (perfumes are expensive!) and after using it for just one day I'm already in love with it. I can't describe scents very well, but I've had three compliments on it so far today and I think that speaks volumes.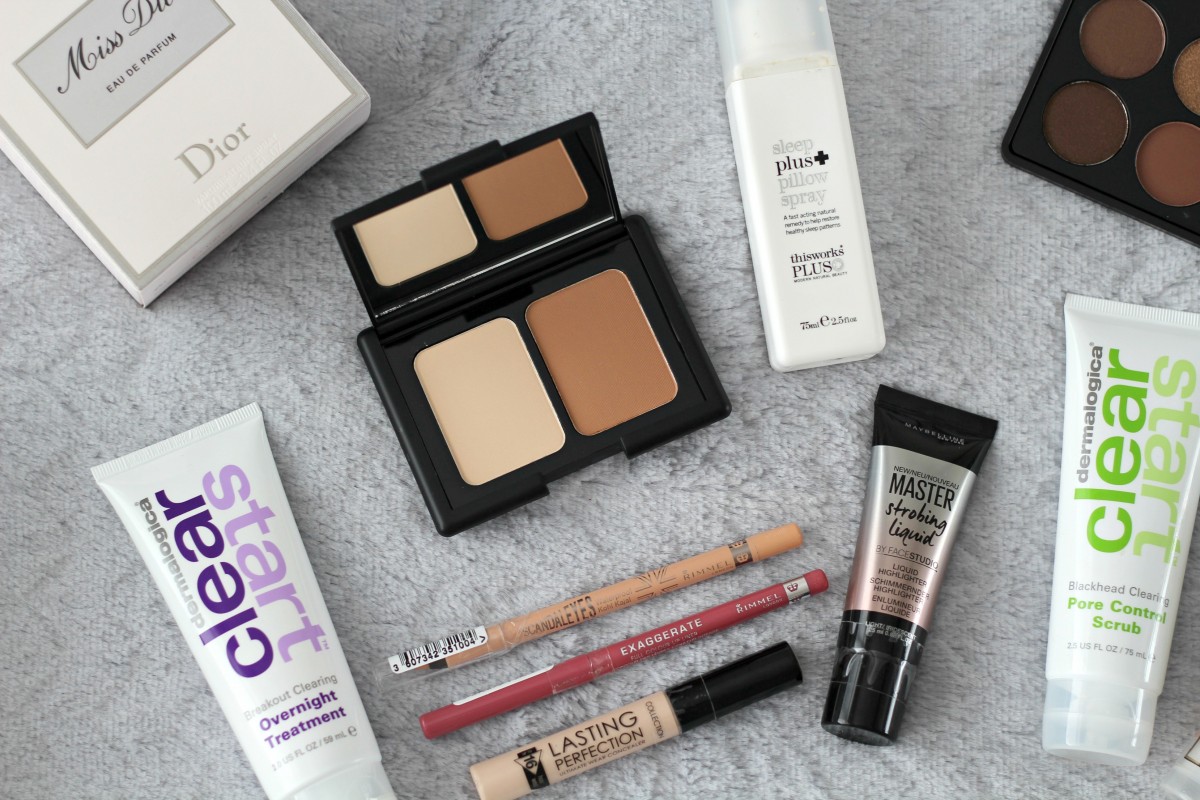 Last week I took a long overdue trip to Boots to scour the aisles for whatever's new. Two of my gorgeous friends use the Seventeen Define and Conquer Kit, and I wanted to give it a try as I think it's the perfect compact to keep in my handbag. The contour shade isn't too warm or ashy, while the highlight powder is perfect for setting under eye concealer. It was less than a tenner too, so it's worth trying out if you're looking for a new contour and highlight duo.
I finally picked up the Rimmel Scandaleyes Waterproof Eyeliner in Nude after having it on my 'to buy' list for months. I'm very wary of eyeliners and fear they'll scrape my waterline, but this is so soft and buttery. It really opens up my eyes without looking too doll-like, and I think this will be an everyday makeup staple from now on.
I've gone through what feels like hundreds of the Rimmel Exagerrate Lip Liner in East End Snob and Collection Lasting Perfection Concealer in Fair and repurchased both yet again. Cheap and cheerful at it's best – I can't recommend trying these enough.
Lastly, after seeing NikkieTutorials speak about it on her Snapchat, I picked up the Maybelline Master Strobing Liquid in Light/Iridescent. Just the swatch of it alone was enough for me to buy it – it's so highly pigmented and metallic. If you'd like to see swatches etc let me know and I'll do a full post on it!
That's everything I picked up – it's quite a lot, I know, but I purchased them over the space of about a month and they might give you inspiration for future beauty purchases.
I'll update you on them as I use them more, and as I said, let me know in the comments if there's anything in particular you'd like to hear more about!