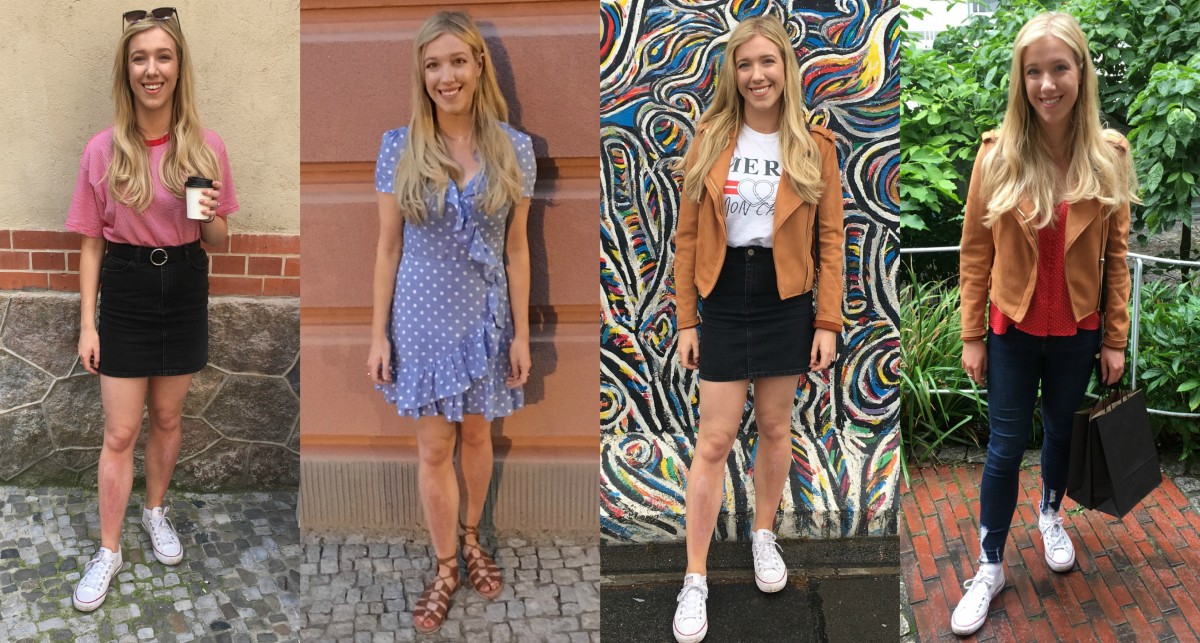 If you follow me on Instagram (linked at the top of the homepage), you might have noticed that I've gotten into posting more outfit photos lately. Funnily enough, I started this website as a fashion blog, but it ended up being more focused on beauty and lifestyle. However, in the last few months I really feel like I've found my 'style' and what works for me. I'm always going to be a t-shirt and jeans kinda gal, but I'm trying a few new things so every outfit doesn't look the same.
I think it goes without saying that I'm a high street gal through and through (oh, to be able to shop for clothes in Brown Thomas), and love picking up affordable pieces that I love every few weeks. As you'll see from my outfits in Berlin, ASOS and Topshop are pretty much my two favourite stores, although I can never resist picking up a few things when I'm in Penneys.
For a long time, I was way too self-conscious to post any outfit photos on my blog or Instagram. I'd end up taking the photo and feeling horrible about myself when it didn't turn out how I thought it would and deleting it completely. I'm glad that I'm not so harsh on myself anymore. I certainly don't love every photo I take (or even most of them, for that matter), but I'm happy to find one that I feel half-decent in and post it. It helps that my boyfriend (who is always roped in to take my photos) has the patience of a saint and, bless him, has learned how I like photos to look. I'll never be 110% happy with a picture, but I think that's what blogging is all about. It's real life and real people, and I'm totally okay with that.
On that note, when we took a trip to Berlin last week, I managed to get a few iPhone photos of some of my outfits. Although I have my DSLR, I find it so much easier to take a quick photo on my iPhone without all of the fuss of a big camera. I must admit that I did a lot bit of shopping before we went, and picked up a few things over there too.
Okat, no more rambling, I promise, onto the outfits…
Outfit #1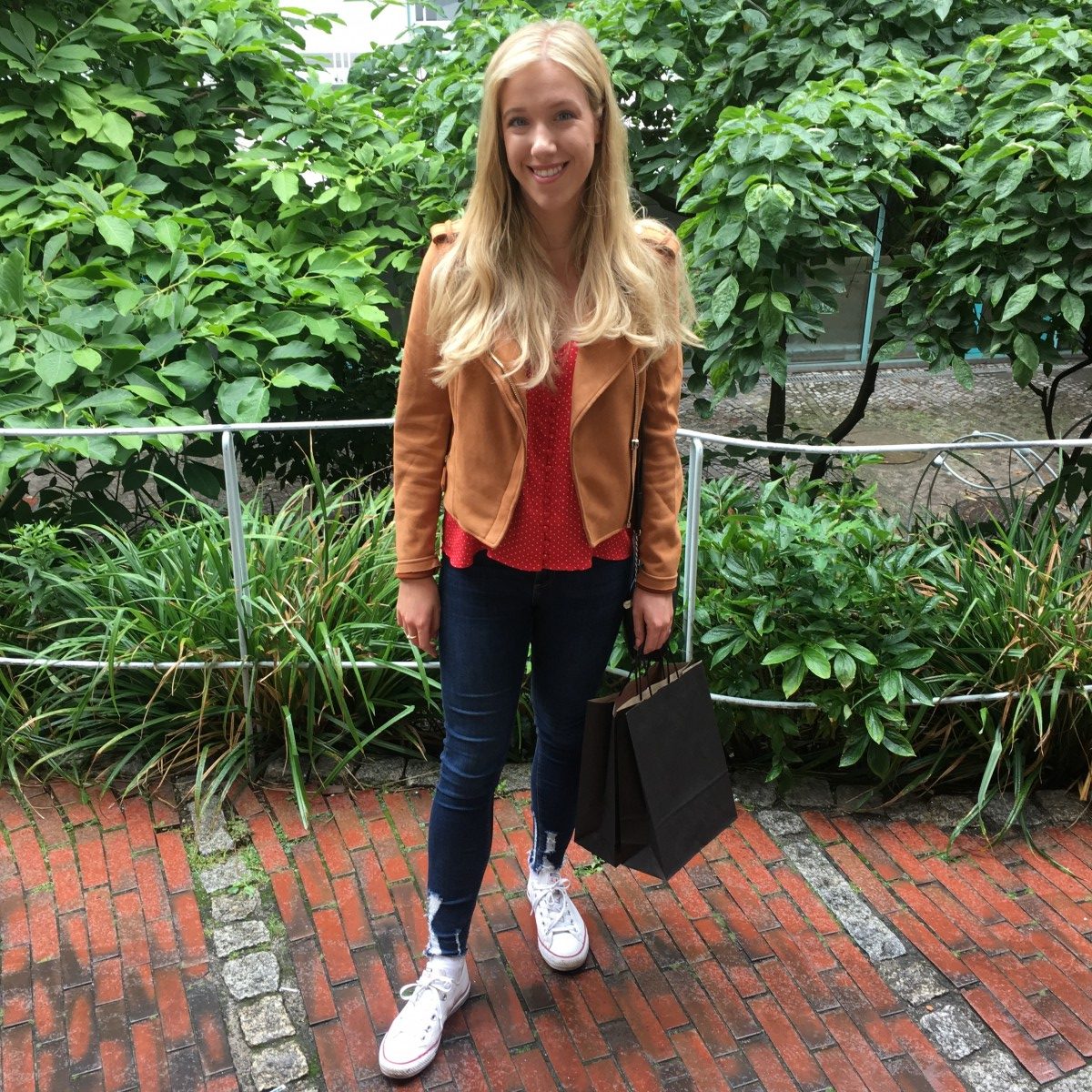 If there's one outfit that sums up my style, it's this one. We were walking around the city for the day and doing a bit of shopping, so I wanted to be comfortable (as always). I wear this River Island suede jacket nearly every day. I wasn't so sure about it when I first bought it, but I'm so glad I did. It goes with nearly everything and isn't too light or too heavy – it's just right.
As it was quite humid, I wore a light button-down cami from Topshop underneath. I'm loving red and polka dots lately, so this ticks all of the boxes. I'm also slightly obsessed with the River Island Molly jeans. I was always a huge fan of Topshop's Jamie and Leigh jeans, but I think I prefer these more. They're so comfortable and stretchy, and wash really well too. As usual, I wore my white leather Converse and black Michael Kors cross-body bag.
Outfit #2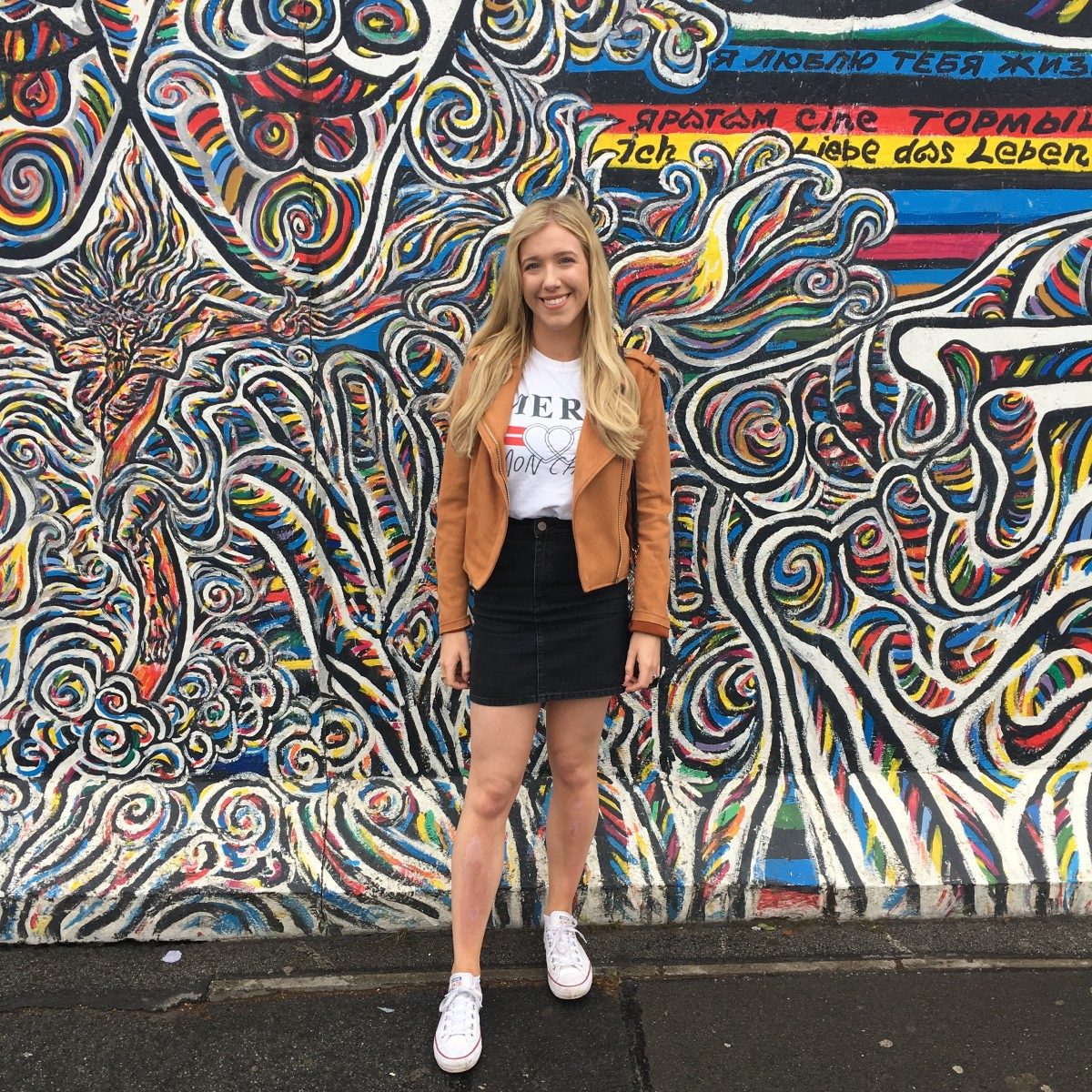 I think this is my favourite outfit from the entire trip. I wore this when we went to the East Side Gallery and it was super comfortable for all of the walking. My trusty Converse and suede jacket make an appearance again, while I picked up the printed t-shirt in Topshop the day before. I'd had my eye on it for a while, so I'm glad I finally picked it up. A gal can never have too many t-shirts, right? The charcoal denim skirt from ASOS has been one of my favourite buys of the summer. I'm usually not a fan of skirts, but I find this one so easy to wear – although chub-rub is inevitable after wearing it for a few hours.
[PS: The unsightly marks on my shins are from when I got extraordinarily badly sunburnt about three weeks ago. 
Never, ever
will I let that happen again – it was the worst burn of my life.]
Outfit #3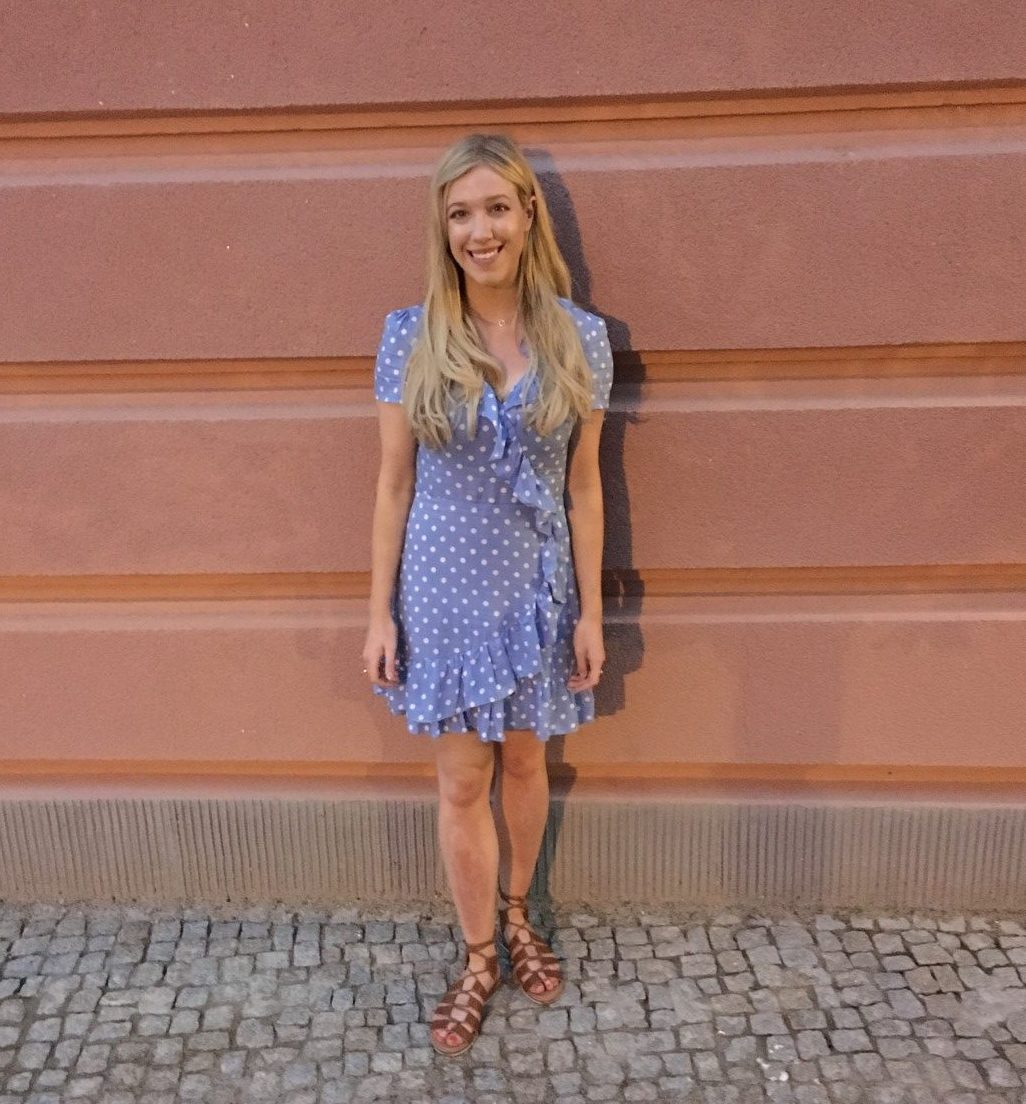 It was near impossible to get a half-decent photo of this dress, so this is what we're going to have to go with. I wore this on our last night when we were going out for dinner and a few drinks. I ordered it on Mango through ASOS and, despite being unsure of how it would fit, I love it. It's light, airy and fits like a glove. The blue and polka-dot combination is adorable, too. The sandals are from Penneys and they go with pretty much every summer outfit.
Outfit #4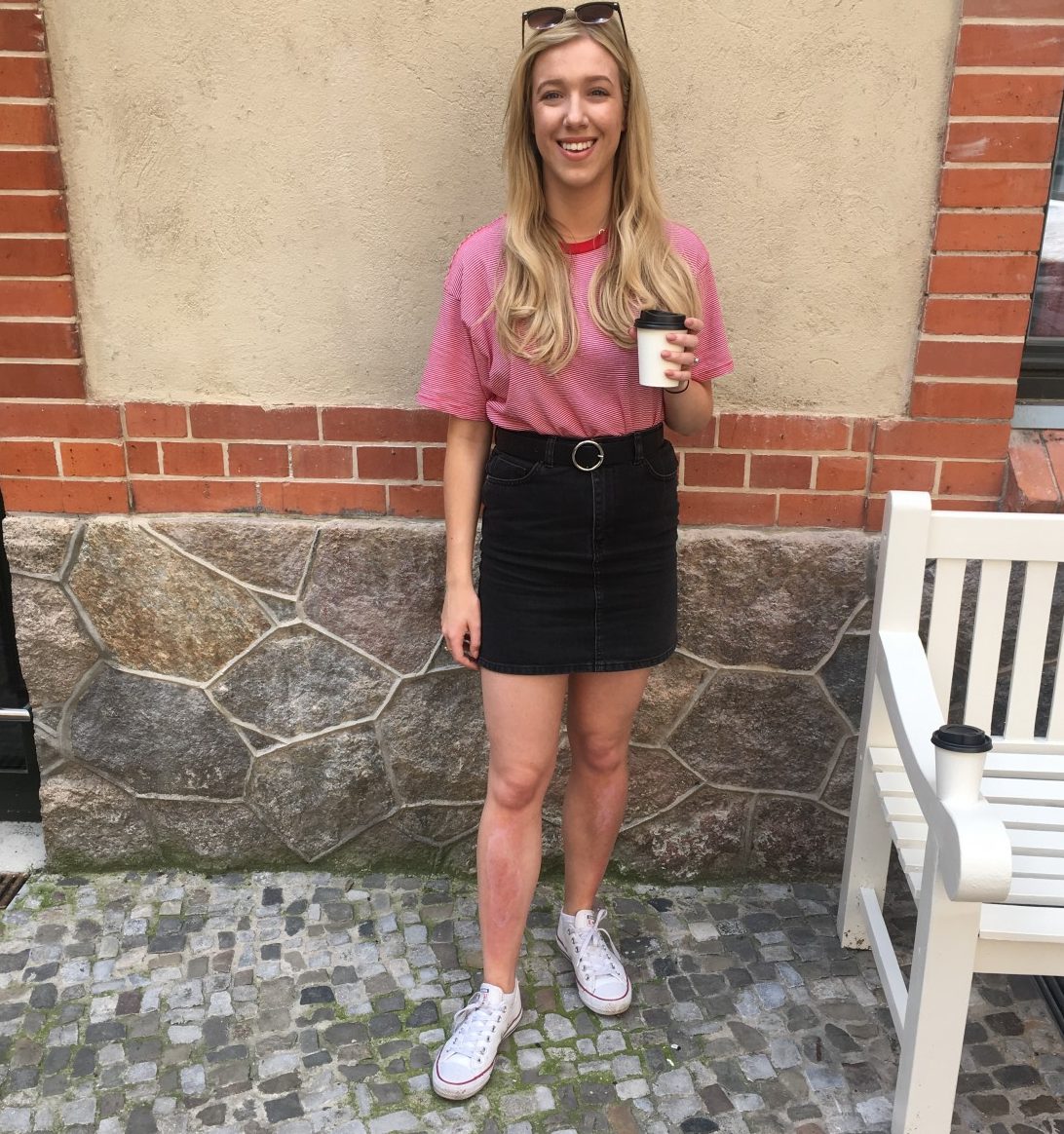 For our last day, the denim skirt and Converse made an appearance again. I bough my 14538th stripy t-shirt in Brandy Melville over there and I love how soft and oversized it is. I popped on a silver buckle belt from ASOS, sunglasses from Penneys, got my third cappuccino of the day and we were good to go.
I'll link everything that I can in the shiny new shop section of WhatSheDoesNow, so pop over there if there's anything you'd like to have a gander at. I really hope you enjoyed this kind of post. It's something different, and I'm by no means a professional fashion blogger but, hey, there's nothin' wrong with that!