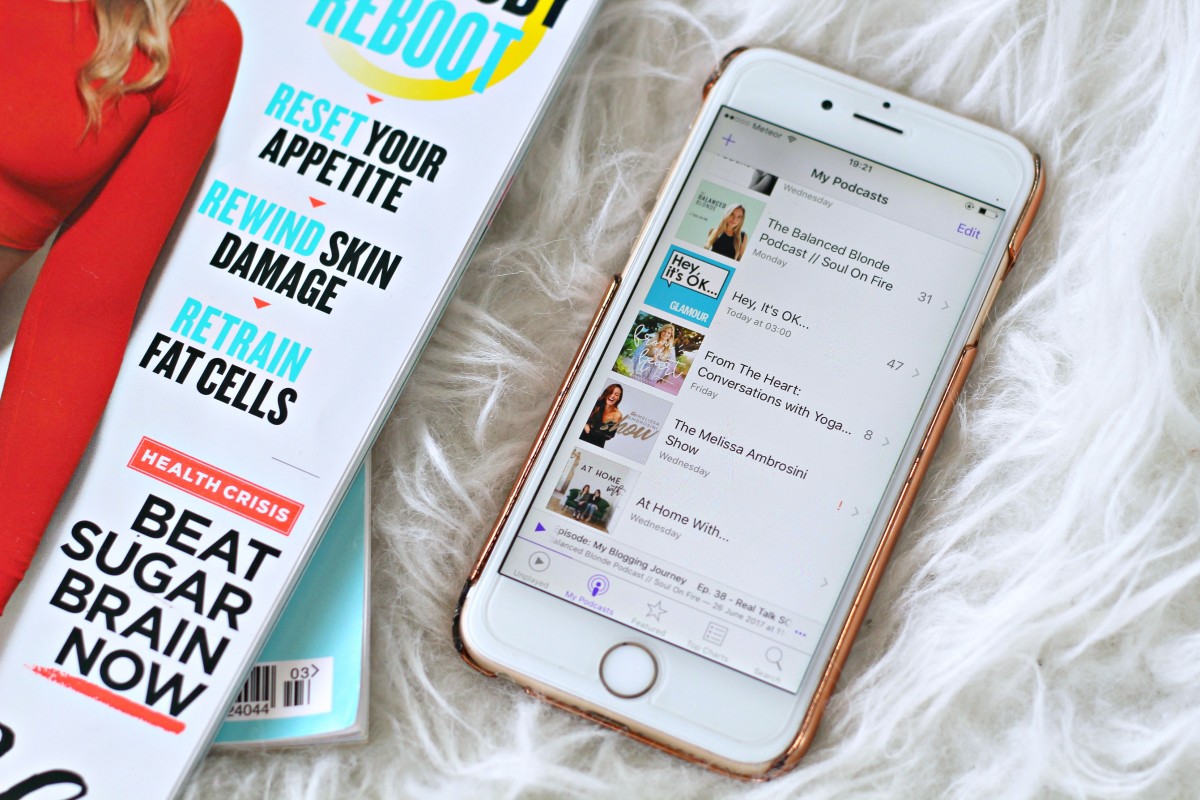 I never understood the concept of podcasts up until a couple of months ago. I always associated them with sport, serious discussions and business. I couldn't have been more wrong. Since then,  listening to podcasts has quickly become one of my favourite things to do. They make my commute to and from work enjoyable, they stop me from constantly scrolling through my phone when I'm getting ready or cleaning because I'm so concentrated on listening, and at the end of every episode I always feel content, inspired and like I've learned something.
My personal preferences for podcasts are beauty, wellness and lifestyle – and I've come to discover so many more in those genres that I want to listen to. I might sound crazy, but I had no idea how to download or listen to a podcast at first. The 'podcasts' app on my phone was hidden away in a folder of apps I never used, but now it's one of the most used things on my phone.
You can download different apps to listen to podcasts, but I find the iPhone version easiest because it's already there. I haven't figured out how to stop podcasts I'm subscribed to automatically downloading on my phone (it's forever running out of memory) so I always delete the downloads or pause the download so I listen to it with my mobile data or on wifi. I've notifications for when the podcasts I'm subscribed to come out, and add them to my 'up next' playlist so there's forever a podcast ready to go.
With that in mind, here are five podcasts that I'm totally obsessed with – and I hope you will be too!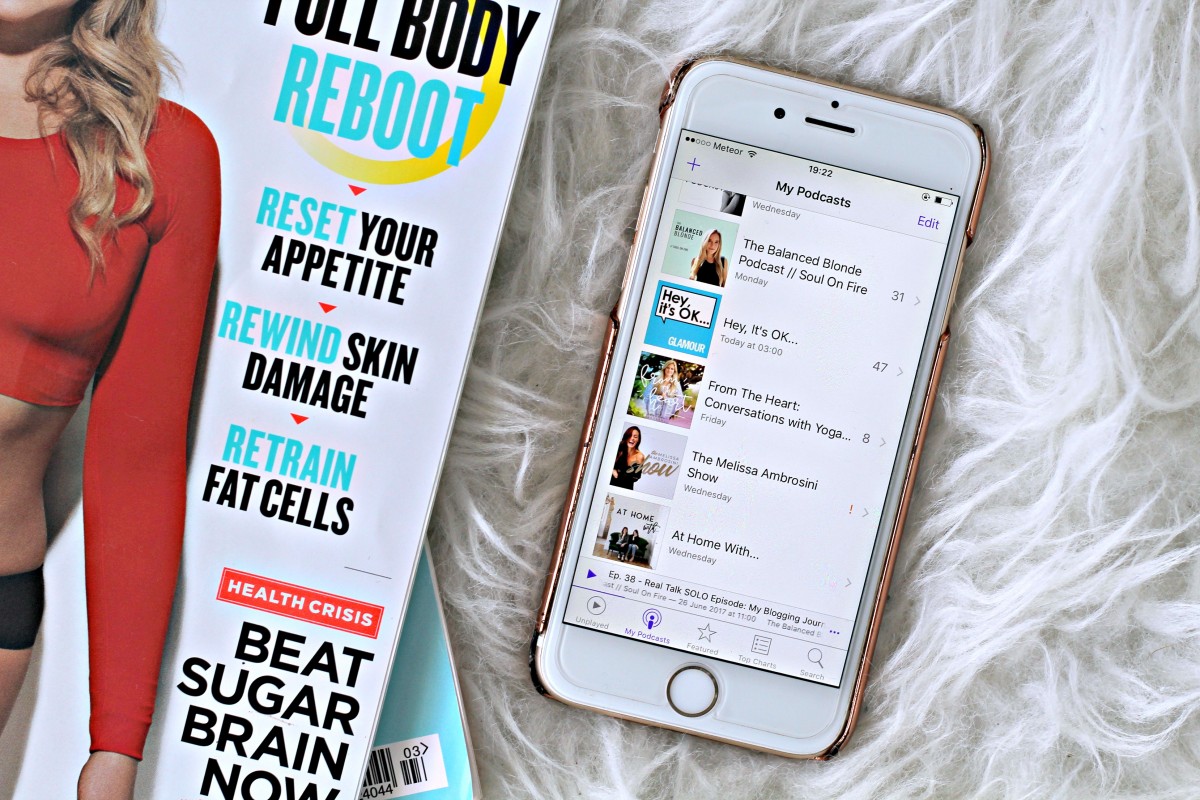 The Balanced Blonde // Soul on Fire
The Balanced Blonde was the first podcast I listened to, and I'm so, so glad I came across it. As I mentioned previously, I've taken up yoga and am really trying to live a more wellness-focussed life (although I've still a long way to go.) There was already more than 30 episodes available to listen to when I subscribed, so I've been working my way through each of them and there hasn't been one that I don't love. Jordan, the brains behind TBB, invites a guest on every week to talk about wellness, health, food, fitness, how to set your soul on fire and achieve your goals, as well as hearing about the guest's journey to being in the job/position that they're in today. I don't think my description is doing it justice, but please listen yourself and you'll understand what I mean. My favourite episode so far is #6, so maybe start with that one! Listen here.
When? Wednesdays Length? 1 hour +
Hey, it's OK
Glamour has long been my favourite magazine, so there's no surprise that I fell in love with its podcast. Hosted by Editor in Chief Jo Elvin, each week a celebrity guest features to chat about everything and anything. From Graham Norton to Daisy Lowe to Pixiwoo, every week is totally different but equally brilliant. It'll make you think, laugh and want to be bessies with Jo. With 42 episodes already available, there's a lot of catching up to do. Listen here.
When? Mondays. Length? 40 minutes.
From the Heart: Conversations with Yoga Girl
Ok, bear with me. Even if you're not interested in yoga in the slightest, I can almost guarantee that you'll adore this podcast. Rachel Brathen (a.k.a Yoga Girl) has 2.1m followers on Instagram and, in short, is an absolute inspiration. Each episode is incredibly honest and uplifting, with topics ranging from health to manifesting abundance to overcoming adversity. If you've been through a tough time recently or at all in your life, this podcast is sure to give you something to think about, and it might even change your life. Bold statement, I know, but trust me. Episode #3 is a good place to start. Listen here.
When? Fridays. Length? 1 hour
The Melissa Ambrosini Show
I'm a huge fan of Melissa's book Mastering Your Mean Girl, and her podcast is just as badass. The self-help guru talks about achieving your goals, how to make money doing what you love, how to believe in yourself and how to live your best life. There's 30 episodes available, and you're sure to find at least one that stands out to you. Melissa is all about positivity and how to live a meaningful, healthy life, which I think is something most of us want. Listen here.
When? Wednesdays. Length? 1 hour +
At Home With…
Lily Pebbles and Anna Newton (The Anna Edit) are two of my all-time favourite bloggers and YouTubers, so when I heard they were coming out with a podcast I was so excited. Each week, Anna and Lily visit their guest's home to get a snoop around where they live and discuss their lives and the industry they work in. This podcast always leaves me smiling, and I genuinely feel like I'm sitting in on the conversation when I'm listening. If you love beauty blogs, makeup, skincare and the beauty/lifestyle/fashion industry, this is the podcast for you. Listen here.
When? Wednesdays. Length? 45 minutes.