This post is a non-paid collaboration with PrettyLittleThing whereby the mentioned items were gifted.
While my favourite outfit to wear is a pair of black leggings, an oversized jumper and slippers, I do occasionally swap my granny life for that of the 23-year-old I am from time-to-time and get dressed up.
My party trick is being able to keep my heels on all night (I wore a pair for 8 hours straight at the weekend), but I have to feel comfortable in the rest of my outfit – no matter where I'm going.
If you're heading out to the races over the coming weeks (or are even just going out and fancy getting dressed up) and are looking for some outfit inspiration, I've put together three outfits from PrettyLittleThing that are dressy and just a little bit out of my comfort zone, but are still things that I feel like *myself* in, yano?
1.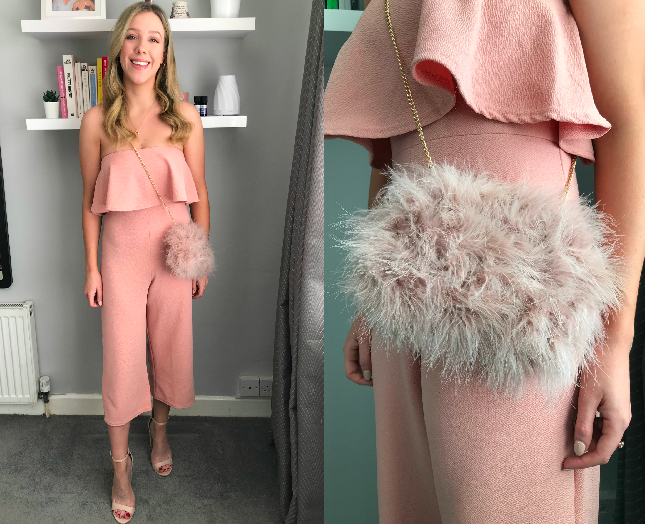 A jumpsuit is a great idea for an outfit if you want to wear something a little different while still being comfortable. I love the shade of this one and I'm a big fan of anything strapless. I'd probably add really big, gold hoop earrings too.
I've wanted a furry bag for ages and I'm obsessed with this one. It adds lil somethin' somethin' extra to the outfit, and is handy because you can wear it cross-body and make it the focus-point. Just beware: everyone will want to touch it.
I went for the same nude heels for every outfit in this post because they go with everything and a nude shoe makes your legs look a bit longer 😉
Dusty Pink Bardot Double Layer Culotte Jumpsuit (size 10) – €28
Nude Marabou Feather Clutch Bag – €35
Nude Faux Suede Block High Heeled Sandals – €35
2.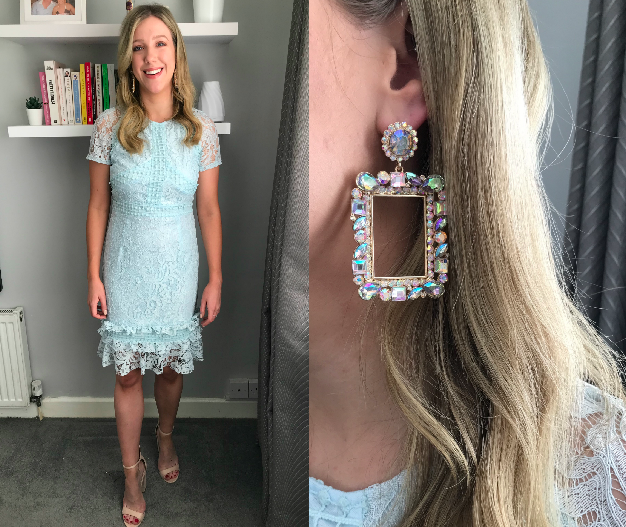 I'll be honest and say that I was a bit nervous about trying this dress on because it's quite different to my usual style (I don't usually go for lace) but I *love* it. It looks way more expensive than it actually is and I think it's quite a classy option without being boring. I added these giant, amazing earrings to add another element to the outfit and I love how they look.
Dusty Blue Frill Hem Lace Bodycon Dress (size 10) – €50
Gold Crystal Square Drop Earrings – €15
Nude Faux Suede Block High Heeled Sandals – €35
3.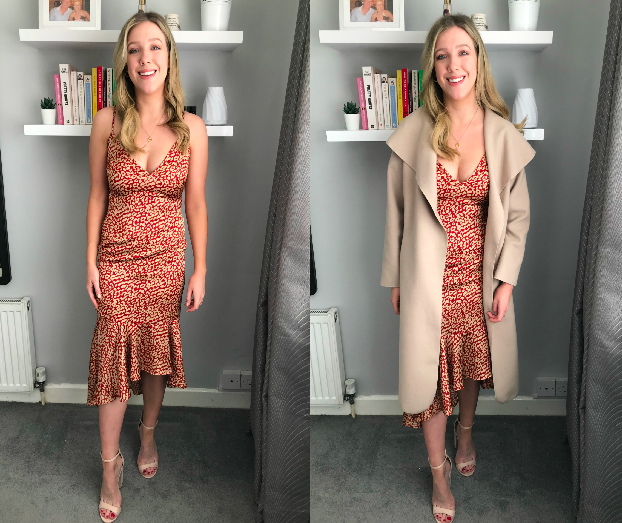 The final outfit I picked out is this leopard print dress, which I just couldn't resist. I'm a sucker for leopard print and I love how the red and beige pattern is different to the usual leopard print colour scheme. It's a little bit lower-cut than what I'd usually wear, but it fits like a glove and I think it's quite flattering.
I'm not the kinda gal who can head out without a coat, so I chose this Meghan-Markle inspired one that has a nice length to it and a belt so that you can wrap it around you to keep you warm when you're standing outside shouting at number 5 to win.   
Red Leopard Print Frill Hem Midi Dress – €42
Veronica Beige Oversized Waterfall Coat – €28
Nude Faux Suede Block High Heeled Sandals – €35
---
As I said at the start of this post, this is a non-paid collaboration with PrettyLittleThing in which I got to style three outfits I'd wear to the races. I hope you enjoyed it!
Please let me know in the comments what you think of the outfits, I'd love to hear!
PS: I included a few bloopers below because they made me laugh! Big thanks to my friend Jen for being a very patient and brilliant photographer <3