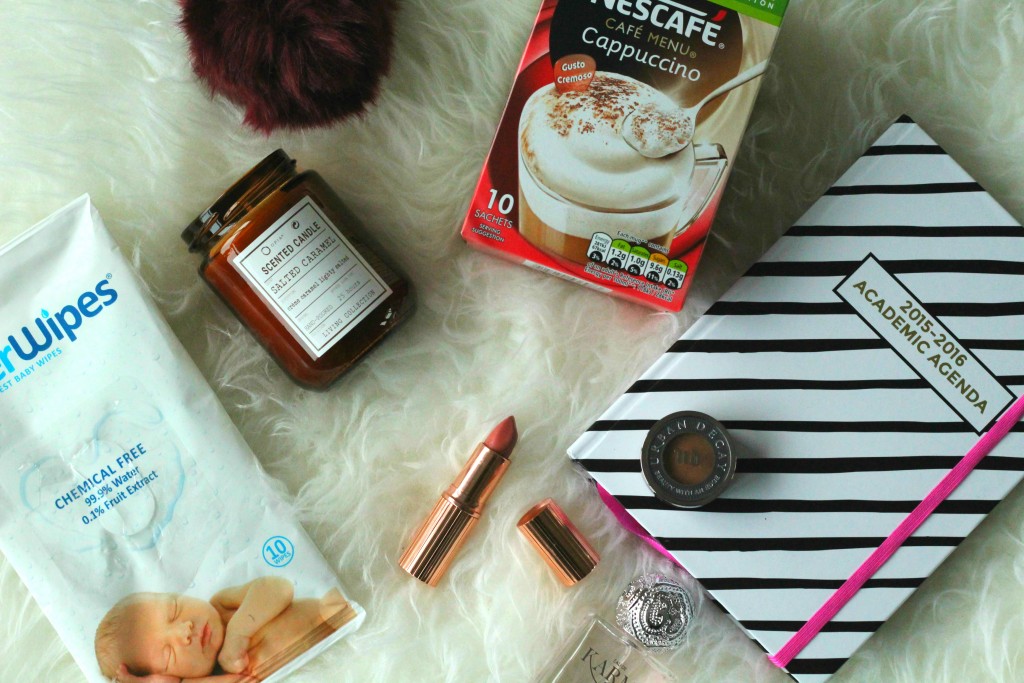 I haven't done a favourites post in a while because there wasn't anything in particular that I'd been loving, but boy was September a good month for loving things! I'm pretty much in full autumn mode now, even though Ireland has decided to have its summer a few months late. Even in 17 degrees, I refuse to leave the house without a tartan scarf. I just love autumn, okay?!
From beauty to lifestyle, here's what I've been loving in September…
I picked up a maroon fuzzy keychain (for want of a better description) in Penneys on a whim, not sure what I'd do with it, but a few weeks later – I love it! I put it on my new Michael Kors grey bag (post to come) and I think it adds a nice extra touch to it. I love accessories like that because when I get sick of it I can just take it off – win, win!
Coffee. Any type of coffee. Give it to me and I'll drink it. I was never a coffee person until the last few months, and now I can't go a day without one. I bought these Nescafe Cappuccino sachets to take with me to work and on the go so I don't feel so bad about spending a ridiculous amount of money on coffee each week. These are nice, but I think I'll always be a latte girl at heart. Any coffee is better than no coffee, right?
Going back to college in September obviously meant that I had to pick up loads of different planners and notebooks. I've spoken before about this one from A Beautiful Mess, and basically it's really good at keeping me organised. I write absolutely everything down in it, and the inspirational quote at the start of each month is right up my street.
Everybody and their granny has been talking about Urban Decay Riff eyeshadow, and after searching for it for a couple of weeks I finally got my hands on it. It's true what they say, it's the perfect all over the lid shadow, meaning you can just slap some on, blend it out and go. Even my dad compliments it every time I wear it – and that says a lot!
You guys know how much I love positive thinking and all that jazz, so when I opened up a package containing Thomas Sabo Eau de Karma Perfume, I was over the moon. It's fruity, floral and fresh, and I love putting it on before I head out the door to send good karma my way!
My love for Charlotte Tilbury is no secret – her products are the epitome of luxury! Miss Kensington Matte Revolution Lipstick is the latest addition to my stash, as part of the Charlotte Tilbury X Norman Parkinson collection. Although it's a matte lipstick, it's in no way drying and has taken over from MAC Bare Again as my go-to nude.
I got Water Wipes as part of a summer essentials kit, but somehow only got around to trying them a few weeks ago. Oh my God. These genuinely are the nicest and best wipes I've ever used. I use them to take off the bulk of my makeup when I'm really tired and they are so refreshing and soothing on the skin. They're 99.9% water, meaning they are super gentle on the skin and free of nasties. I've seen them stocked in Penneys, and plan on picking up a pack before going on holidays and using them to cool down.
If you've been in Penneys recently, I'm sure you've seen that their new home range is amazing. I popped in one day (just for a look…) and ended up leaving with a whole new bed set, candles, fairy lights and 101 other things. The Salted Caramel candle is one of the nicest scents I've smelled, so much so that I have them scattered around the house. It fills up whatever room it's lit in and is so relaxing. Plus, once it's burnt out you can use the jar as a makeup brush holder!
October got of to a pretty good start today with passing my driving test (YAY), so here's to hoping the rest of the month follows suit!
What are your September favourites?!