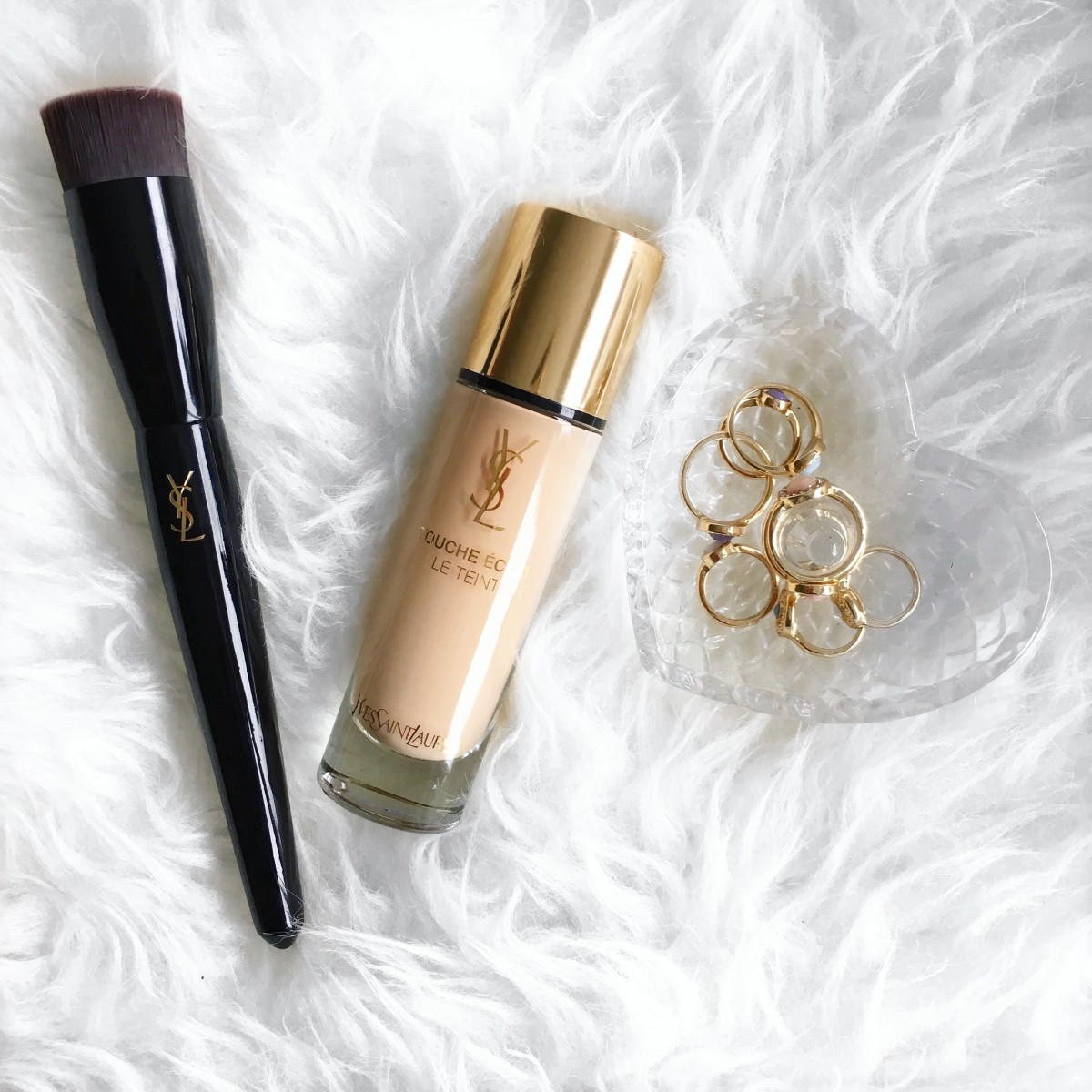 When it comes to trying out new foundations, I'm always sceptical. NARS Sheer Glow has been my holy grail for a few years now, and I've never really felt the need to try another foundation for daytime. A few months ago, I got to try out the Yves Saint Laurent Le Teint Touche Eclat Foundation*, and I've been testing it out ever since. I take things seriously when it comes to foundation.
This is a new take on the classic Touche Eclat Foundation and is described as an illuminating, perfecting foundation that highlights the contours of the face and targets the shadowy areas.
Let's start with the packaging: it's in a tall glass 30ml bottle, that feels as expensive as it looks. It comes with a pump that makes using the foundation easy, and it isn't messy at all.
As for the foundation itself, it's a liquid formula that isn't thick, but also isn't runny. It's a bit in between. I use the shade B10 (the lightest shade) and it suits me perfectly. It adds a bit of warmth to my face, without looking like it doesn't match. There are 22 shades, which is pretty impressive. You're bound to find a shade that suits you.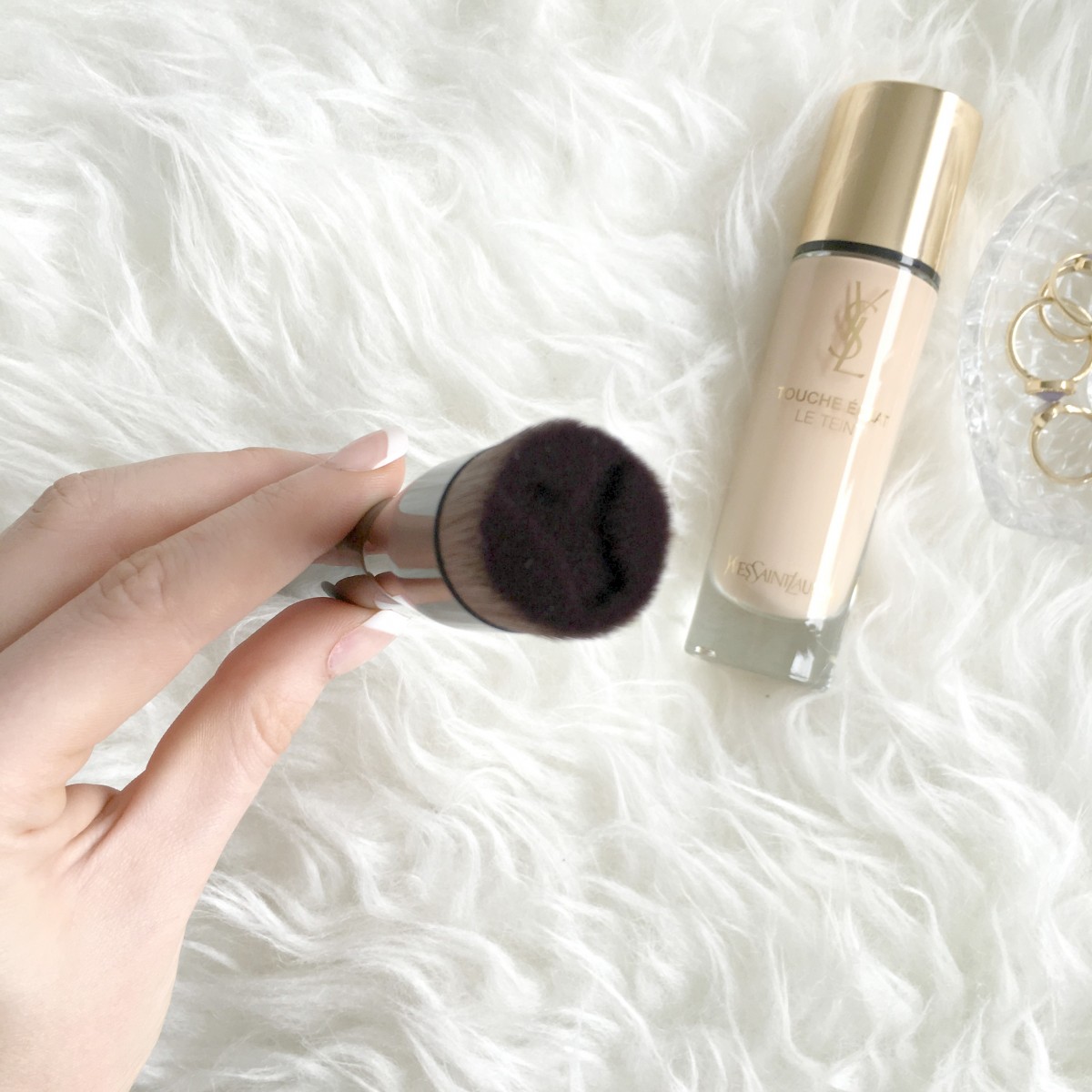 Application-wise, I also got to try out the Touche Eclat Foundation Y Brush*. Apologies for the over-exposed picture above, but it's the only way I could show you the Y reservior that's made into the brush. This brush is specially made to go with the foundation, but personally I'm not a fan. I find that it soaks up all of the product, and the short bristles make using the brush difficult. However, this is a great buffing brush. While it didn't work so well for me at applying foundation, I like using this to buff in concealer on spots and blemishes. Once I've applied my foundation using the Real Techniques Buffing Brush, I also like using this over the skin to make sure everything is totally blended in and it gives a flawless finish.
Back to the foundation…
This is a buildable foundation. One pump gives medium coverage and two pumps gives medium-full coverage. The finish is glowy and beautiful. It blends easily into the skin and looks so natural. It isn't heavy or cakey at all. It makes my skin look awake, bright and refreshed.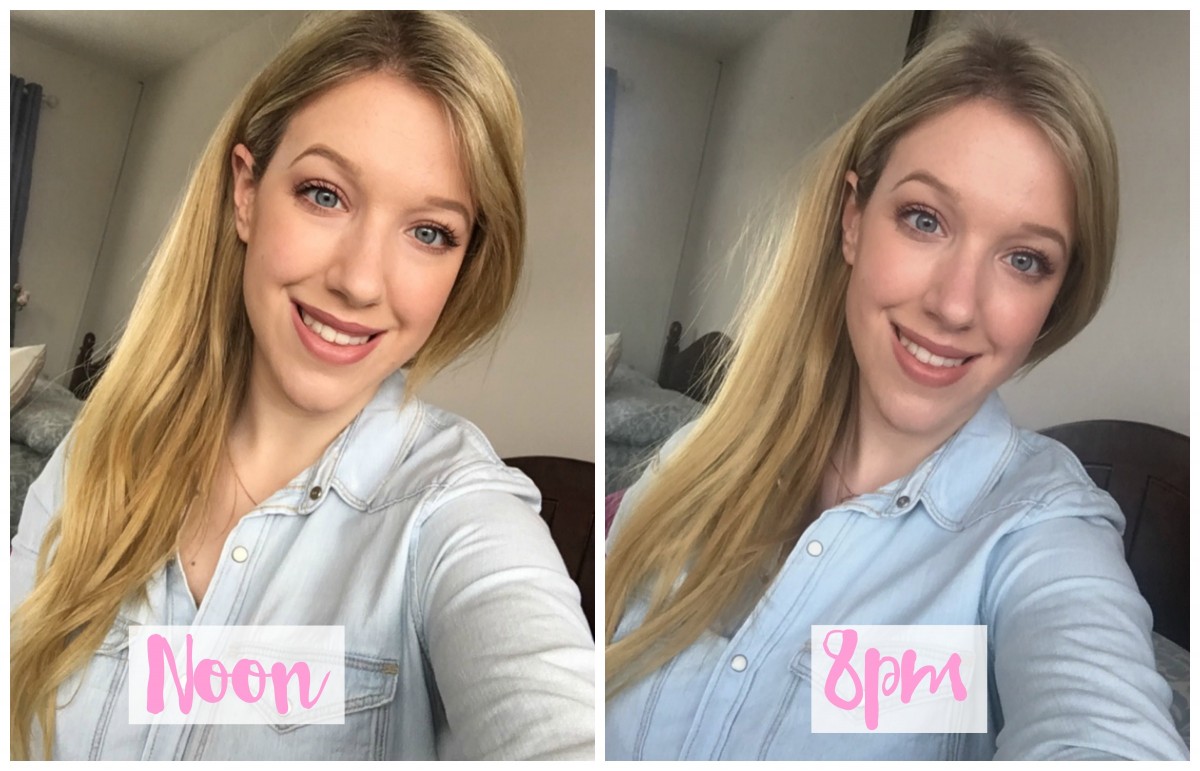 Side note: I've combination skin, with a few breakouts and redness, that gets a tiny bit oily throughout the day.
Hopefully you can see from the picture above how well the foundation lasted for 8 hours. I didn't touch up at all throughout the day. When I was putting it on, I just used a moisturiser underneath and a slight bit of powder on top to set (like I always do). Aside from the change in lighting, you can see how the centre of my forehead, nose, chin and tops of my cheeks became a bit more glowy throughout the day. The key word here is glowy – not oily or greasy. It wears really well for me and even when I took it off at 10 last night, it still looked good.
If you have very oily skin, I'm not sure how well this would work. I'd say try a sample and maybe try a few primers with it if you can. Otherwise, I can see this working well for all other skin types. I've been using this nearly every day for a few months now and can't see myself stopping anytime soon!
So if you're looking for a new foundation, I'd definitely recommend trying this one out. It is pricey, but the 30ml bottle will last quite a while. It's a truly beautiful, radiant foundation that gives gorgeous, natural coverage. I love the finish of this, especially coming into the spring and summer months!
Apologies for the veryyy long post, but I wanted to give you all the details! Here's a quick summary, to finish:
Name: Yves Saint Laurent Le Teint Touche Eclat Foundation
Coverage: Buildable, medium-full
Formula: Liquid
Finish: Glowy, flawless, radiant
Price: €42
Skin types: Normal/combination. May not be suited to oily skin
My shade: B10
Lasts: Up to 10 hours without a touch up
Verdict: Love!
Have you tried this foundation?