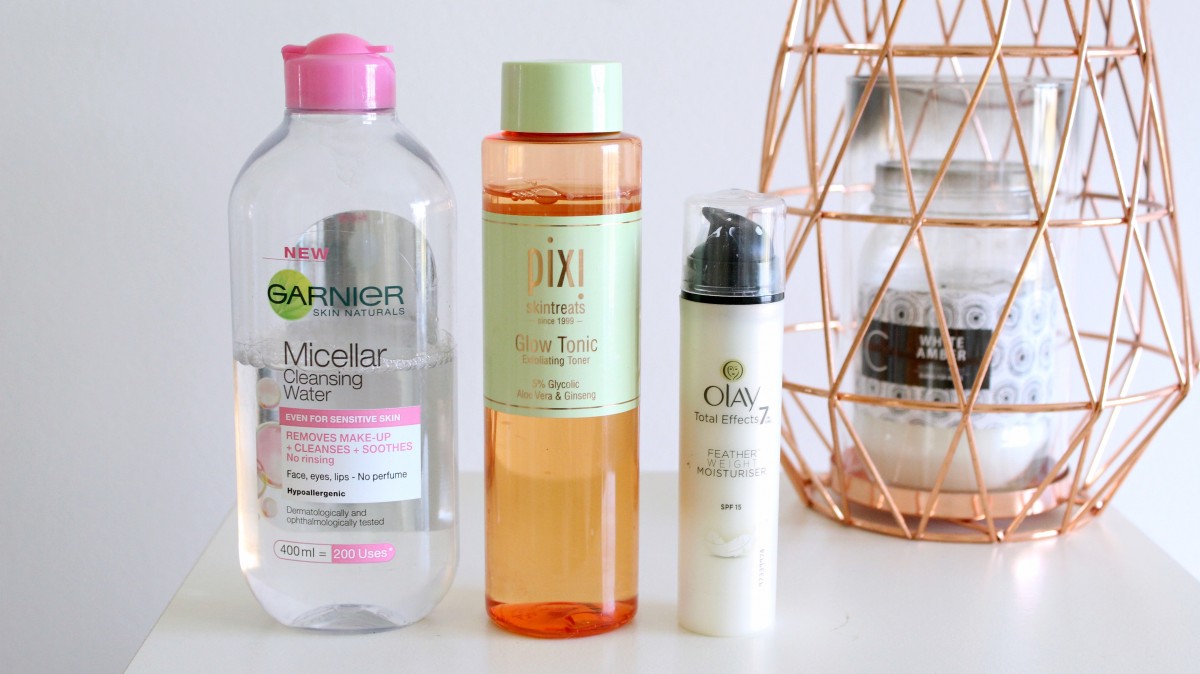 Maybe it's just me, but whenever I hear the words "morning skincare routine" I always feel a bit overwhelmed and confused. Is splashing water on your face in the morning not enough? Some morning skincare routines I see include what seem like dozens of steps and just aren't realistic for me.
So I took some guidelines from Sally Hughes' Pretty Honest and found a morning skincare routine that works well for me. If you're wondering where to start, here's what to do:
Step 1 – Cleanser // Although you might not feel like you need to wash your face in the morning, you do! Dirt and grime (lovely) can build up while you're sleeping, makeup won't sit right if your face isn't cleansed and it's just a bit gross. I use Garnier Micellar Water to cleanse my face in the mornings. It isn't the most hard-working product, but it does the job as I always do a very thorough cleanse at night time.
Step 2 – Toner // Toner might seem like an unnecessary step, but once you get into using one you'll really see the difference. I use Pixi Glow Tonic and it has really changed my skin. It brightens the skin, smooths the skin, helps to fight breakouts and gently gets rid of dead skin cells. A good toner can make your skin look and feel amazing, and is definitely worth investing in.
Step 3 – Moisturiser // This step is a 2-in-1. If you want a simple skincare routine, you want your moisturiser to contain SPF. Ain't nobody got time for applying a separate moisturiser and SPF. For years I didn't use a daily moisturiser (the horror, I know!), but it is such an important step, whether you wear makeup or not. Olay Total Effects Feather Weight Moisturiser* is my favourite as it's affordable, it contains SPF15, it's light on the skin, it hydrates and smooths the skin and doesn't disrupt makeup. I wrote a whole review on it here, if you'd like to read it.
And that's all you need! Three simple products that do the job well, but still give you that extra five minutes in bed.
Depending on whether your skin needs it, you could introduce a serum before moisturising or an exfoliator instead of toner a few times a week. It's all about looking after your skin and realising what it needs.
Read here for part 2 – How to Make an Evening Skincare Routine