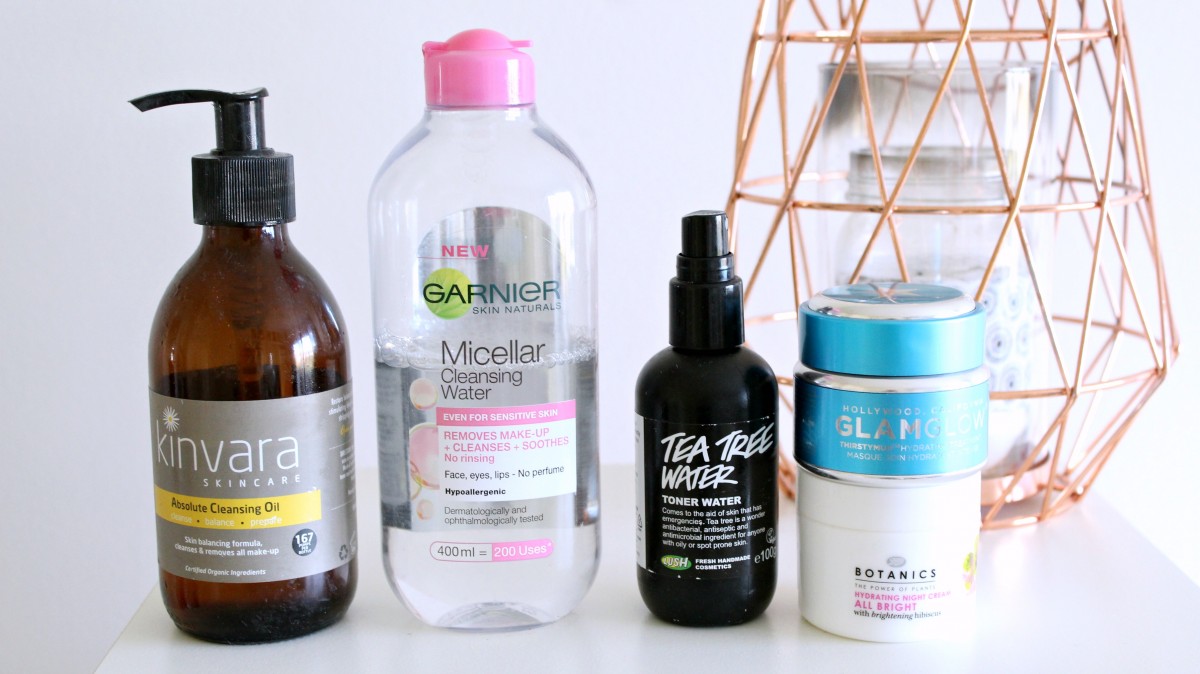 This post follows on from How To Create A Morning Skincare Routine but, as the title says, it is about creating an evening skincare routine. I personally think that your evening skincare routine is more important than its morning counterpart and can be a very relaxing part of your evening. We all know how good it feels to take our makeup off after a long day, am I right?
Again, your evening skincare routine can be as simple or as complicated as you like. Just bare in mind that you want to remove all of the stresses from the day (makeup, pollution, sweat, life in general) from your skin and prepare it for repairing itself over night. The steps I take are pretty much the same as what I do in the morning, but the products I use and how I do them is a bit more thorough. Here's where to start:
Step 1 – Cleanser // Whether you wear makeup or not, it's so important to cleanse your skin properly at night time. As I mentioned above, the air outside (thanks, pollution) is reason alone to cleanse your skin. You don't want all of that sitting on your skin for 8-10 hours while you're sleeping, do you? I use the Kinvara Absolute Cleansing Oil and totally adore it. It's one of the best cleansers I've ever used, is super gentle on the skin and removes makeup with ease. I use this with a face cloth soaked in warm water and I feel like I've gone to a spa every time. To make sure I've gotten rid of all of the cleanser on my skin, I use Garnier Micellar Water on a cotton pad. I'd highly recommend double cleansing with two gentle cleansers at night so your skin is as clean as it can be.
Step 2 – Toner // I explained the benefits of toners in How To Create A Morning Skincare Routine. I switch to a different toner at night as it has a slightly different purpose. If you suffer from breakouts, you'll love Lush Tea Tree Water. It's a toner than contains tea tree to treat and fight breakouts. It's really gentle and works well overnight to keep spots and blemishes at bay. It's very affordable, but you can make your own version at home by mixing a few drops of tea tree oil and water.
Step 3 – Moisturiser // Just like cleanser, you want your night time moisturiser to be more hard working than your morning moisturiser. You won't be wearing any makeup or going anywhere during the night (I hope), so you can use a lovely thick, creamy moisturiser and let it soak in overnight. A good moisturiser will make your skin plump, soft and look fresh in the morning. Keep your moisturiser beside your bed and you'll never forget to use it. Once you see the results, you'll wonder why you never used one. I use Boots Botanics All Bright Hydrating Night Cream (which I reviewed here), and 2-3 nights a week I use Glam Glow ThirstyMud (review) to really treat my skin.
If your skin needs a lil' extra TLC, you could use a serum or night oil instead of a moisturiser, a face mask once or twice a week and a spot treatment gel if your skin is really misbehaving. The three steps above are the basis of a good skincare routine and, as I said, you can personalise it as much or as little as you like.
So grab your products together, your skin is going to look so good!
What steps do you take in your evening skincare routine?