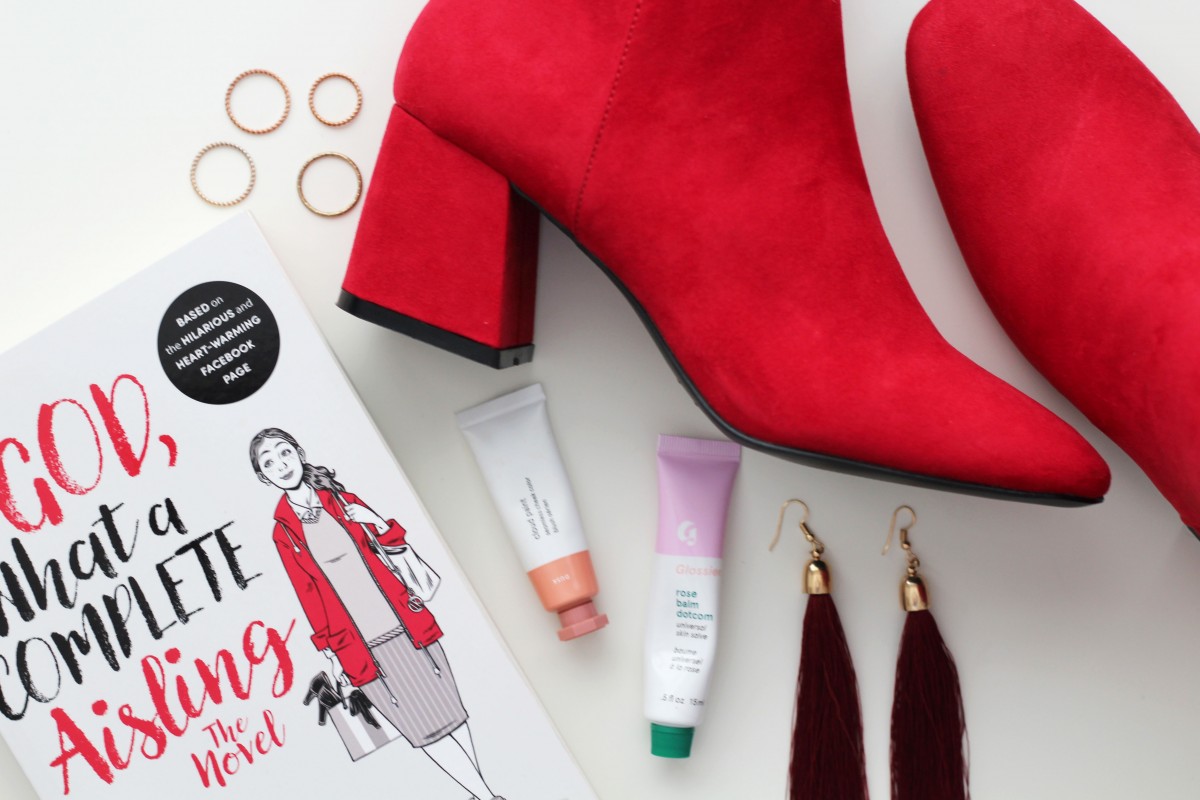 Every month seems to go by faster than the last, but I physically cannot fathom that it will be November on Wednesday. November means it's nearly Christmas, and Christmas means it's nearly the New Year, and before we know it, it's January 2018 and we're all making our new year's resolutions. Oh my Lord. Is anyone else as blown away by this as I am? *gulps tea anxiously*
Saying that, October was a pretty good month overall. I started a new job, rediscovered my blogging mojo and found a lot of new things that I love. Instead of doing a monthly favourites, I've rounded up 7 things that made me happy this month. I'm not going to list the usuals (family, friends, my dog, tea, chocolate), but instead new things I've discovered and that made me smile. Here's hoping November brings even more!
My red boots – Never did I think I'd own a pair of red boots, but as soon as I saw these babies on ASOS, I knew I had to have them. I literally live in ankle boots all autumn/winter long, and the pop of colour makes a nice change from my standard black leather pair.
Reading – Like a lot of people, I was a total book nerd when I was younger but grew out of the habit over the past several years. I love shopping for books and devour them when I go on holiday, but struggle to find the time over the rest of the year. A few weeks ago I bought Oh My God What A Complete Aisling in an attempt to take a break from social media – and it worked. After that, last week I bought a Kindle with a voucher I had and I finished another book (Eleanor Oliphant Is Completely Fine – highly recommend) within three days. While I'll always love reading an actual book, having a Kindle makes it so much easier to read on the go and in bed. Plus, e-books are much cheaper.
Norbert – If you need something to make you smile, follow Norbert – a 3lb therapy dog – on Instagram. It's physically impossible to look at a photo of him and not smile. Fact. With so many things on social media making us all feel like crap, it's so nice to have a little relief thanks to adorable Insta-famous animals.
Glossier – I know, I know, I haven't stopped talking about Glossier – but I'm just so happy that shipping to Ireland is now available! I've been loving testing out new products from the brand after lusting after it for years. Here's how to get Glossier to Ireland, FYI.
Acne Out – I've mentioned quite a few times that my skin has been the worst it's ever been for the past eight months – but I've FINALLY found a solution! Acne Out products have totally changed my skin and given me so much confidence in such a short space of time. I'm going to write a full post with before and after pictures and details of my routine soon, but I just had to mention the brand.
Statement earrings – After years of being afraid to wear earrings thanks to the beautiful braces I had back in 2010, I've finally entered the world of being a regular statement earring-wearer. They make me feel sassy as hell and change up any outfit, plus you can literally spend as little as €1.50 on a fab pair in Penneys.
The Good Place – A late night Netflix binge a few weeks ago led me to The Good Place – and I'm so glad I found it! If you're looking for something funny, heartwarming and with a good storyline, this is the show for you. I already can't wait for more episodes to come out.
There are approximately another 3856830 things that made me happy this month that were experiences and not material items, but if I was to list them all off we'd be here until 2018. I'm feeling very grateful that this month has had so many good memories, and I really hope next month does too.
Let me know what made you happy this month in the comments below!